Order Enquiries
ROI Orders
+353 1 2907000

+353 1 2907111
NI Orders
+44 2890 735 588

+44 2890 735 599
Airtraq®
Guided Video Intubation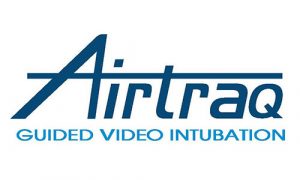 Airtraq® is the only video laryngoscope that can be reasonably and economically placed in every location where an intubation is performed. It is highly effective for difficult and challenging airways, also awake, cervical immobilisation, bariatric and face-to-face intubations. Readily available throughout Theatres, Emergency Care and ICU, on resuscitation trolleys and for pre-hospital use, Airtraq® is single use to prevent cross contamination, easy to learn and simple to use.
For difficult intubation Airtraq® SP (single patient) available in six sizes
Regular Adult (ETTs 7.0-8.5), Small Adult (ETTs 6.0-7.5), Paediatric (ETTs 4.0-5.5), Infant (ETTs 2.5-3.5), Nasal and Double Lumen (35-41 Fr).
Improved Optical System
Reduced dimensions (mouth opening  A-021 15 mm and A-011 16 mm)
Improvements to Guide Channel: delivery angle and surface
Improved Eyecup
Reduced warm-up time
Improved on/off switch
Now only 2 batteries
For routine intubation – Airtraq® Avant Optical Laryngoscopes
Airtraq® Avant for challenging and elective airways, as well as for difficult airways
Airtraq® Optics inserts inside the single use Airtraq® Blade and is completely isolated from the patient, unlike many other videolaryngoscopy devices
Airtraq® Optics and Docking Stations provided free of charge
Airtraq® Digital Camera (A-390)
Minimal cost
Light and Impact Resistant
Integrated 2.8" touch panel
Auto-Recording option
Video Playback on screen and downloadable videos to PC
Wi-Fi connection to PC's and phones/tablets
Operating time 240 minutes
Airtraq Guided Video Intubation
Order Enquiries
ROI Orders
+353 1 2907000

+353 1 2907111
NI Orders
+44 2890 735 588

+44 2890 735 599
This website uses cookies to improve your experience. We'll assume you're ok with this, but you can opt-out if you wish.Accept Read More
Privacy Overview
This website uses cookies to improve your experience while you navigate through the website. Out of these, the cookies that are categorized as necessary are stored on your browser as they are essential for the working of basic functionalities of the website. We also use third-party cookies that help us analyze and understand how you use this website. These cookies will be stored in your browser only with your consent. You also have the option to opt-out of these cookies. But opting out of some of these cookies may affect your browsing experience.
Necessary cookies are absolutely essential for the website to function properly. This category only includes cookies that ensures basic functionalities and security features of the website. These cookies do not store any personal information.
Any cookies that may not be particularly necessary for the website to function and is used specifically to collect user personal data via analytics, ads, other embedded contents are termed as non-necessary cookies. It is mandatory to procure user consent prior to running these cookies on your website.