ARROW® Arterial Catheter Products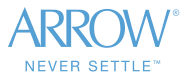 The ARROW® Brand offers the most comprehensive portfolio of arterial catheterization products. The innovative designs and product features of ARROW® Arterial Products are designed to save time and increase the success rate of arterial access with patented integral wire design, and the only passive Sharps Protected Arterial Catheter with an integral spring-wire.
Seldinger Arterial Catheter
The Arrow® Seldinger Arterial Catheter is designed to improve patient safety by eliminating confusion of catheter identification, reduce risk of complications associated with insertion technique, and provide optimal diagnostics leading to effective treatment for patients.
Each set contains:
1 – Indwelling catheter with 7 cm integrated extension line and removable slide clamp
1 – Spring-wire guide (SWG)
1 – Introducer needle

ORDER ENQUIRES:
ROI orders / enquiries please contact
+353 1 2907000
+353 1 2907111
NI orders / enquiries please contact
+44 2890 735 588
+44 2890 735 599
UK orders / enquiries please contact