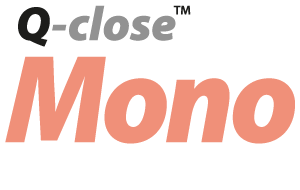 Q-Close Mono
ABSORBABLE SURGICAL SUTURE MONOFILAMENT POLIGLECAPRONE 25

Material polymer

Poligecaprone 25 (copolymer of glycolide and caprolactone)

Structure

Monofilament

Suture type

Synthetic, Absorbable

Colour

Violet or Undyed

Gauge sizes available

U.S.P. 5/0 to 2 (Metric 1.0 to 5.0)

Tensile strength retention

Days post implantation 
– 7 days 
– 14 days

Approximate % of tensile strength retained 
– 50% 
– 20%

Mass absorption

By hydrolysis. Absorption is essentially complete between 90 and 120 days.

Sterilisation method

Ethylene oxide

Indications

Q-close™ Mono sutures are indicated for use in general soft tissue approximation.
ORDER ENQUIRES:
ROI orders / enquiries please contact
+353 1 2907000
+353 1 2907111
NI orders / enquiries please contact
+44 2890 735 588
+44 2890 735 599