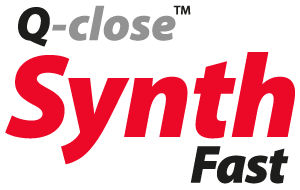 Order Enquiries
ROI Orders
+353 1 2907000

+353 1 2907111
NI Orders
+44 2890 735 588

+44 2890 735 599
Q-Close Synth Fast
ABSORBABLE SURGICAL SUTURE COATED POLYGLACTIN 910

Material polymer

Polyglactin 910 (90% glycolide and 10% lactide)

Structure

Multifilament, braided

Suture type

Synthetic, Absorbable

Coating

Polyglactin 370 (30% glycolide and 70% lactide) and calcium stearate

Colour

Undyed

Gauge sizes available

U.S.P. 6/0 to 0 (Metric 0.7 to 3.5)

Tensile strength retention

Days post implantation 
– 7 days

Approximate % of tensile strength retained 
– 50%

Mass absorption

By hydrolysis. Absorption is essentially complete by 42 days.

Sterilisation method

Ethylene oxide

Indications

Q-close™ Synth Fast is indicated for use in general soft tissue approximation where only short term wound support is required and where rapid absorption of the suture would be beneficial. Due to the rapid absorption profile, Q-close™ Synth Fast is useful for skin closure, particularly in paediatric surgery, episiotomies, circumcision and closure of oral mucosa.
Order Enquiries
ROI Orders
+353 1 2907000

+353 1 2907111
NI Orders
+44 2890 735 588

+44 2890 735 599
Related
Laboris nisi ut aliquip ex ea commodo consequat.
This website uses cookies to improve your experience. We'll assume you're ok with this, but you can opt-out if you wish.Accept Read More
Privacy Overview
This website uses cookies to improve your experience while you navigate through the website. Out of these, the cookies that are categorized as necessary are stored on your browser as they are essential for the working of basic functionalities of the website. We also use third-party cookies that help us analyze and understand how you use this website. These cookies will be stored in your browser only with your consent. You also have the option to opt-out of these cookies. But opting out of some of these cookies may affect your browsing experience.
Necessary cookies are absolutely essential for the website to function properly. This category only includes cookies that ensures basic functionalities and security features of the website. These cookies do not store any personal information.
Any cookies that may not be particularly necessary for the website to function and is used specifically to collect user personal data via analytics, ads, other embedded contents are termed as non-necessary cookies. It is mandatory to procure user consent prior to running these cookies on your website.