Sonosite iViz
Ultrasound System
Benefits
Ultrasound, At The Speed Of Life
A powerful diagnostic tool all within the palm of your hand, the SonoSite iViz was designed to go with you, where you need it.
One Handed User Interface
Ergonomic one-hand operation allows for easy manipulation of image settings, especially useful in crowded environments or inside vehicles when space is a premium.
Uncompromised Image Clarity
Small in size does not mean compromise on image. The iViz combines DirectClear Technology, advanced image processing (SonoHD3) and a high-resolution display to provide the image quality you expect from a SonoSite system.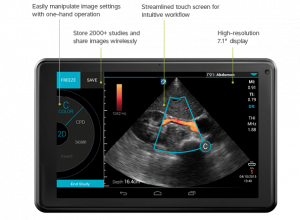 Click image to enlarge
Durability
Not an 'off the shelf tablet', instead built from the ground up
System and transducers drop-tested to 3 feet
Transducers are IPX-7 rated meaning they are fully submergible in water
Connectivity, Simplified
Designed to operate in today's cyber-threat rich workplace
Tricefy™ inside every iViz device – fully encrypted & HIPAA compliant
Allows you to share and archive images anywhere, at anytime
WIFI connection and web browsing
*Please discuss with your Fannin representative if Tricefy™ is available in your region
Workflow, Simplified
The iViz workflow is streamlined and easy to use for one hand operation
Swappable batteries allow users to be truly mobile with minimal downtime
Export studies via Micro USB or DICOM
Connect to wireless printers
Connect to valuable embedded education to tools through the SonoAcess ™ 2.0 app
Display images through the HDMI port
ORDER ENQUIRES:
ROI orders / enquiries please contact
+353 1 2907000
+353 1 2907111
NI orders / enquiries please contact
+44 2890 735 588
+44 2890 735 599
This website uses cookies to improve your experience. We'll assume you're ok with this, but you can opt-out if you wish.Accept Read More