Order Enquiries
ROI Orders
+353 1 2907000

+353 1 2907111
NI Orders
+44 2890 735 588

+44 2890 735 599
VacSax BactiClear® Antimicrobial Suction Liners
the product of choice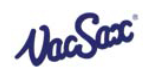 VacSax BactiClear® Antimicrobial Disposable Suction Liner Range – The only system where all external surfaces are totally antimicrobial, designed to minimise the risk of cross infection.
All external surfaces of the liner and canister have antimicrobial properties proven to reduce the growth of harmful bacteria such as MRSA and E.coli by 99.99% over a few hours and permanent protection after 24 hours.
The range includes; 1 Litre, 2 Litre and 3 Litre Liners suitable for all Clinical Areas.
Use as a completely closed system with the standard or PreGelled suctions Lines. Sample port versions for the addition of solidifying gel or for using with a sample sock are also available. All our liners with the exception of the cascade versions have a hydrophobic bacterial shut off filter for complete overflow protection. Our unique patented designed liner is folded for ease of storage and begins to inflate immediately the vacuum is attached.
VacSax BactiClear Antimicrobial Suction Liner System 
VacSax BactiClear Antimicrobial Accessories
Order Enquiries
ROI Orders
+353 1 2907000

+353 1 2907111
NI Orders
+44 2890 735 588

+44 2890 735 599
This website uses cookies to improve your experience. We'll assume you're ok with this, but you can opt-out if you wish.Accept Read More
Privacy Overview
This website uses cookies to improve your experience while you navigate through the website. Out of these, the cookies that are categorized as necessary are stored on your browser as they are essential for the working of basic functionalities of the website. We also use third-party cookies that help us analyze and understand how you use this website. These cookies will be stored in your browser only with your consent. You also have the option to opt-out of these cookies. But opting out of some of these cookies may affect your browsing experience.
Necessary cookies are absolutely essential for the website to function properly. This category only includes cookies that ensures basic functionalities and security features of the website. These cookies do not store any personal information.
Any cookies that may not be particularly necessary for the website to function and is used specifically to collect user personal data via analytics, ads, other embedded contents are termed as non-necessary cookies. It is mandatory to procure user consent prior to running these cookies on your website.