The Patient Voice in Cancer Research, 21st September 2018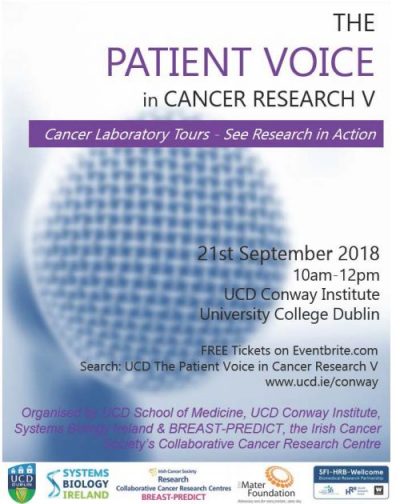 Fannin's Medical Team are delighted to be attending the upcoming 2018 UCD Patient Voice in Cancer Research event along with our partners Theya Healthcare.
'The Patient Voice in Cancer Research' is a UCD-led event that gets people affected by cancer and their families involved in shaping and informing the future of cancer research in Ireland.
This event is organised by UCD School of Medicine, UCD Conway Institute, Systems Biology Ireland & BREAST PREDICT, the Irish Cancer Society's Collaborative Cancer Research Centre.
Its aim is to identify the questions and needs that matter most to those living with a cancer diagnosis and those most likely to improve the relevance of cancer research.
This years event will take place on Fri 21 September 2018 between 10.00am and 12.00om at the Conway Institute, UCD
For further information, click here