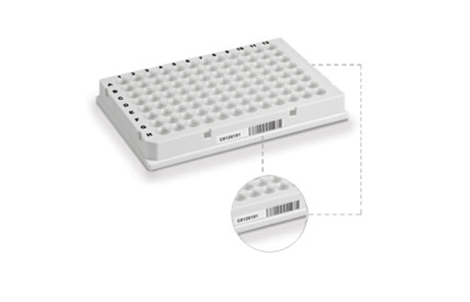 Barcoded 96-Well PCR

These PCR microplates have user- and machine-readable bar codes for sample tracking. Our barcoded PCR plates are compatible with Bio-Rad's T100™, C1000 Touch™, and S1000™ Thermal Cyclers and all CFX series real-time PCR systems. Use the PCR Plastics Consumables Selector Tool to determine individual plate compatibility with other instruments.
Several types of barcoded PCR plates are available to suit different needs.
Hard-Shell® 96-Well PCR Plates have a patented* two-component design engineered to remain warp-free, permitting precise positioning for automation, and have black lettering for easy identification. Hard-Shell plates are compatible with heat, pressure, and adhesive sealing.
Choose from:

Hard-Shell® High-Profile and Low-Profile Semi-Skirted 96-Well PCR Plates
Hard-Shell® Low-Profile Skirted 96-Well PCR Plates
Hard-Shell 480 Plates for the Roche LightCycler 480

Microseal® Low-Profile Skirted 96-Well PCR Plates are single-component polypropylene plates with locator holes and flat vertical sidewalls for secure handling. Raised rims provide compatibility with most sealing systems and a tight seal.
Features and Benefits of Barcoded PCR Plates
Barcoded plates are available in both high-profile and low-profile for compatibility with all styles of thermal cyclers and real-time PCR systems
Footprint and well spacing of the barcoded plates meet ANSI/SBS microplate standards
Plates are free of DNase, RNase, and human DNA
ORDER ENQUIRES:
ROI orders / enquiries please contact
+353 1 2907000
+353 1 2907111
NI orders / enquiries please contact
+44 2890 735 588
+44 2890 735 599
UK orders / enquiries please contact