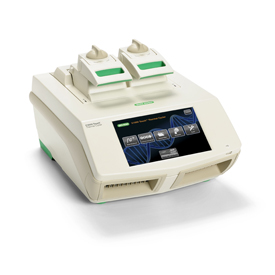 C1000 Touch Thermal Cycler

Use the C1000 Touch Thermal Cycler with Dual 48/48 Reaction Module to run two independent PCR protocols in a single bay, using either 48-well plates or individual tubes. The Dual 48/48 Reaction Module can be swapped out in seconds without tools, allowing the use of 96-well or 384-well modules in the same C1000 Thermal Cycler chassis.
Features and Benefits
Adjustable heated lid — for use with various vessels and sealer types
Large touch screen — for easy protocol programming and editing
Programmable thermal gradient — for quickly identifying optimal annealing temperatures
Product Contents
C1000 Touch™ Thermal Cycler chassis (1841100)
Dual 48/48 Fast Reaction Module (1840148)
USB flash drive
Configuration Options
The C1000 Touch Thermal Cycler can be combined with other reaction modules for PCR and real-time PCR and allows flexible configuration with multiple units as stand-alone or externally controlled systems.
For more information, see the C1000 Touch Thermal Cycler product page.
ORDER ENQUIRES:
ROI orders / enquiries please contact
+353 1 2907000
+353 1 2907111
NI orders / enquiries please contact
+44 2890 735 588
+44 2890 735 599
UK orders / enquiries please contact