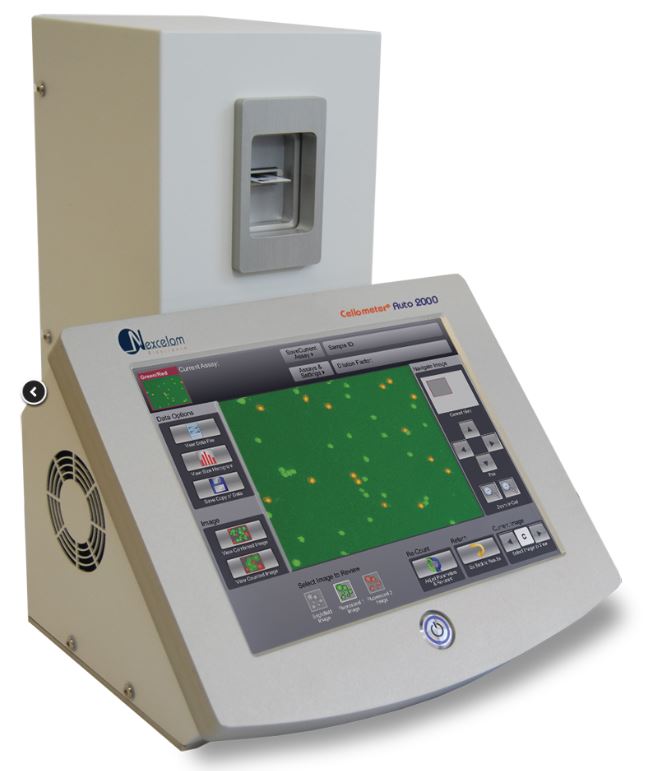 Cellometer Auto 2000 Cell Viability Counter
Touchscreen fluorescent automated cell counter for primary samples

Simple, User-friendly Procedure
Pipette 20 µl
Insert Slide
Select Assay & Click Count
View Results in 30 seconds!
Simple, Automated Cell Counting in 30 Seconds
The Auto 2000 utilizes bright field imaging and dual-fluorescence imaging to quickly and accurately identify and count individual cells. Cell count, concentration, diameter, and % viability are automatically calculated and reported.

Load Sample, View Image, Count Cells, and Obtain Results in less than 30 seconds
The Auto 2000 Allows Users to
Increase throughput
Increase accuracy
Improve consistency
Ensure all data is correctly captured
Count difficult cells (clumpy, irregular-shaped)
Eliminate judgment errors, miscounts, interference from red blood cells and user-to-user variability
ORDER ENQUIRES:
ROI orders / enquiries please contact
+353 1 2907000
+353 1 2907111
NI orders / enquiries please contact
+44 2890 735 588
+44 2890 735 599
This website uses cookies to improve your experience. We'll assume you're ok with this, but you can opt-out if you wish.Accept Read More