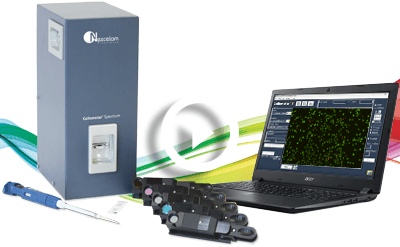 Cellometer Spectrum Image Cytometry System
Customizable Cell Counting and Image Cytometry Instrument
The Spectrum Image Cytometer is a customizable cell counting and cytometry instrument that provides flow-like data with predesigned templates. Quickly plot cell population data as a histogram, scatter plot, dot plot or contour plot using FCS express.
The filter sets are user-changable, allowing you to customize the instrument for specific assays/reagents of interest.
Features
All-in-One System – Basic cell counting, primary cell viability, and cell-based assays. – 
Dual-Fluorescence for Accurate Primary Cell Viability – No interference from red blood cells. Analyze bone marrow, peripheral blood, and cord blood without lysing.
Unique Algorithms for Advanced Cell Analysis – Determine concentration and viability of hepatocytes, adipocytes, and other sophisticated cell types.
Fast Results – Obtain cell images, counts, size measurements and viability calculations in < 30 seconds per sample.
Simple Cell-Based Assays
Pre-qualified reagents
Small 20 µl sample size
Simple, image-based analysis
Pre-defined instrument settings
Assay-specific data templates
Accurate, consistent results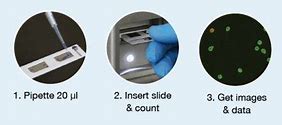 ORDER ENQUIRES:
ROI orders / enquiries please contact
+353 1 2907000
+353 1 2907111
NI orders / enquiries please contact
+44 2890 735 588
+44 2890 735 599