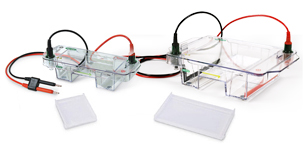 Horizontal Electrophoresis Systems
HORIZONTAL ELECTROPHORESIS
Overview
Bio-Rad offers a variety of submerged horizontal electrophoresis cells that are ideal for DNA gel electrophoresis. All cells include components for casting gels. The Mini-Sub® cell GT and wide Mini-Sub cell GT DNA electrophoresis systems can be used with ReadyAgarose precast gels.
Category Products
Mini-Sub® Cell GT Cell
Horizontal mini cells offer speed, simplicity, and economy. The wide mini cells are best suited for multiple-sample and rapid-screening DNA electrophoresis applications.
Wide Mini-Sub Cell GT Cell
The wide Mini-Sub cell GT cell is suited for multiple-sample, rapid-screening applications. This popular DNA electrophoresis system has a wide platform that can separate 30 samples per comb.
Sub-Cell® GT Cell
The Sub-Cell GT cell is the most versatile of the submerged horizontal DNA electrophoresis cells in the Sub-Cell family, offering the greatest choice of gel lengths, sample combs, and separation modes.
Sub-Cell® Model 96 Cell
The Sub-Cell Model 96 cell was developed specifically for multiple samples/high-throughput analysis. Cell and combs are designed for use with multichannel pipets to expedite DNA gel electrophoresis.
Sub-Cell® Model 192 Cell
The Sub-Cell Model 192 offers the highest capacity of our DNA electrophoresis cells. Compatible with multichannel pipets, this cell accommodates gels up to 25 cm long.
ReadyAgarose™ Precast Gel System
Precast ReadyAgarose gels are compatible with Mini-Sub cell GT and wide Mini-Sub cell GT electrophoresis cells. Choose from mini, wide, or 96-well DNA electrophoresis gels in 1% or 3% agarose, TBE or TAE buffer, with or without ethidium bromide.
ORDER ENQUIRES:
ROI orders / enquiries please contact
+353 1 2907000
+353 1 2907111
NI orders / enquiries please contact
+44 2890 735 588
+44 2890 735 599