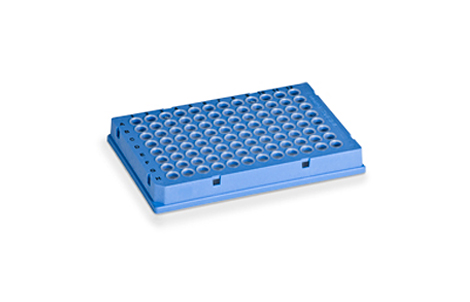 Low-Profile 96-Well PCR Plates

Low-profile PCR plates are recommended for newer thermal cyclers, real-time systems including fast PCR systems and DNA sequencers. Instrumentation compatible with low-profile PCR plates include Bio-Rad's C1000 Touch™ and S1000™ Thermal Cyclers and the CFX series real-time PCR systems. Use the PCR Plastics Consumables Selector Tool to determine individual plate compatibility with other instruments.
Several types of low-profile PCR plates are available to suit different needs.
Hard-Shell® Low-Profile Skirted and Semi-Skirted 96-Well PCR Plates, including Hard-Shell plates for the Roche LightCycler 480, feature a patented* two-component design engineered to remain warp-free, permitting precise positioning for automation, and have black lettering for easy identification. Hard-Shell plates are compatible with heat, pressure, and adhesive sealing.
Multiplate™ Low-Profile Unskirted 96-Well PCR Plates are made of polypropylene for low protein binding and are easily cut with scissors if less than a whole plate is needed.
Concord™ Polycarbonate 96-Well PCR Plates are breathable plastic, so reaction volumes should be ≥ 20 µl. As they do not have raised rims, Chill-out® Liquid Wax is the best sealing option.
Microseal® Low-Profile Skirted 96-Well PCR Plates are single-component polypropylene plates with locator holes and flat vertical sidewalls for secure handling and easy bar coding. The footprint and well spacing meet ANSI/SBS microplate standards. Raised rims provide compatibility with most sealing systems and a tight seal.
Features and Benefits of Low-Profile PCR Plates
Low profile means less reaction mix enters the gas phase, reducing condensation and minimizing changes in reaction volume
Improved light capture in fluorescence assays
Smaller reaction volumes can decrease costs
Plates are free of DNase, RNase, and human DNA
ORDER ENQUIRES:
ROI orders / enquiries please contact
+353 1 2907000
+353 1 2907111
NI orders / enquiries please contact
+44 2890 735 588
+44 2890 735 599
UK orders / enquiries please contact