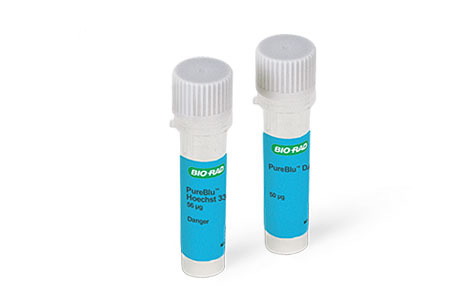 Nuclear Staining Dyes

PureBlu™ Nuclear Staining Dyes are designed to specifically stain the nuclei of cells in fixed and unfixed samples for fluorescence microscopy and cell imaging applications.
Based on the well-recognized DAPI and Hoechst 33342 chemistries, PureBlu Dyes are offered in a ready-to-reconstitute, high-purity powder format. PureBlu DAPI and PureBlu Hoechst 33342 Dyes are both ready to use after a single dilution — no weighing required.
Features and Benefits of PureBlu Nuclear Staining Dyes
High purity formulation for quality results in challenging experiments
Pre-aliquoted powder format eliminates time-consuming weighing steps
Convenient format allows you to generate working solution with only one dilution step after resuspension
Compatible with multicolor experiments
Applications and Uses of PureBlu Nuclear Staining Dyes
Nuclear staining
Microscopy and cell imaging
Multicolor experiments
ORDER ENQUIRES:
ROI orders / enquiries please contact
+353 1 2907000
+353 1 2907111
NI orders / enquiries please contact
+44 2890 735 588
+44 2890 735 599