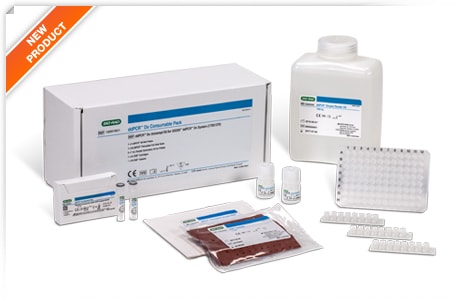 QXDx™ Universal Kit for ddPCR™ System

The QXDx Universal Kit for ddPCR System is CE-IVD* marked for use in mutation detection, copy number analysis, and absolute quantification. The kit is designed for use with the QXDx™ Droplet Generator and contains all the reagents and consumables needed to perform a run on QXDx™ ddPCR™ Systems, Bio-Rad's Droplet Digital™ PCR Systems approved for use in a regulatory environment, in Open Mode.
Note: Until the phasing in of its proprietary name, this product will be available under the registered name ddPCR™ Dx Universal Kit for QX200™ ddPCR™ Dx System. Find out more.
Features and Benefits
Contains all components required except your specific templates, primers, and probes
Validated GMP reagents
Designed and packaged to allow Open Mode use of ddPCR™ Systems
Flexibility to use with customized assay design, validation, and implementation for Lab Developed Tests
Streamlined workflow with simple ordering and ease of use
Applications and Uses
Mutation detection
Copy number analysis
Absolute quantification
General use
Kit Components
The QXDx Universal Kit for ddPCR System (17001379) includes:
QXDx Consumable Pack (12001921)

ddPCR 96-Well Plates, pkg of 5 (12003185)
ddPCR Pierceable Foil Heat Seals, pkg of 50 (12003015)
Droplet Generation Oil for Probes, 2 x 7 ml bottles (12003020)
DG8™ Cartridges, pkg of 24 (12003018)
DG8 Gaskets, pkg of 24 (12003021)
Instruction Manual (12005493)

QXDx Supermix Pack, 2 x 1 ml (12002544)
QXDx Droplet Reader Oil Pack, 1 x 1 L (12002526)
ORDER ENQUIRES:
ROI orders / enquiries please contact
+353 1 2907000
+353 1 2907111
NI orders / enquiries please contact
+44 2890 735 588
+44 2890 735 599