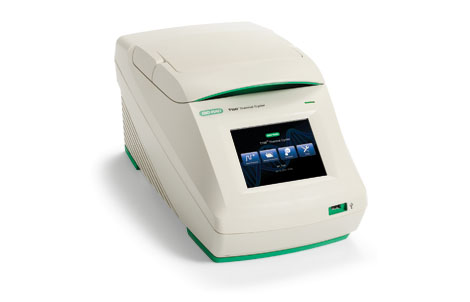 T100 thermal cycler

The T100 thermal cycler is a small thermal cycler offering a comprehensive set of convenient features in a small footprint. This compact thermal cycler features an intuitive touch-screen user interface to make running PCR easy. Thermal gradient technology allows you to quickly optimize your reaction in a single run. With its robust design, the T100 system is a reliable personal thermal cycler that delivers exceptional performance for years — test drive the T100 thermal cycler today.
Features and Benefits of the T100 Thermal Cycler
Intuitive touch screen — easy programming using a large color touch screen and intuitive interface
Consistent results — robust design ensures effective and consistent performance run to run
Easy optimization — this gradient thermal cycler allows fast PCR optimization using a unique thermal gradient
Easy protocol management — protocols can be organized using personalized folders or a USB flash drive
Small space-saving footprint — the T100 is a compact thermal cycler that fits in any laboratory
Watch this video highlighting how researchers around the world use the T100 thermal cycler.
Applications and Uses for the T100 Thermal Cycler
Nucleic acid amplification (PCR)
Gene expression analysis
Cycle sequencing
Download the latest T100 firmware upgrade.
ORDER ENQUIRES:
ROI orders / enquiries please contact
+353 1 2907000
+353 1 2907111
NI orders / enquiries please contact
+44 2890 735 588
+44 2890 735 599
UK orders / enquiries please contact