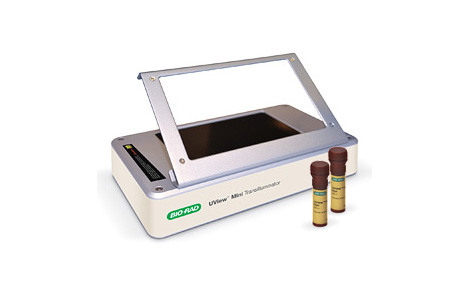 UView™ 6x Loading Dye plus Mini Transilluminator
UView™ 6x Loading Dye plus Mini Transilluminator
UView 6x Loading Dye
UView 6x loading dye is a dual-action fluorescent nucleic acid stain and loading dye that allows for immediate visualization of DNA fragments after electrophoresis without the need for in-gel or post electrophoretic staining/destaining. While sensitive, it is also nontoxic and nonmutagenic, making it an attractive alternative to ethidium bromide.
UView 6x loading dye allows you to:
Save time with a combined DNA stain and loading dye
Visualize your DNA fragments immediately after electrophoresis
Use a nontoxic and nonmutagenic alternative to ethidium bromide
Detect samples in concentrations as low as 6 ng
The UView 6x loading dye is best for DNA electrophoresis applications.
UView Mini Transilluminator
The UView transilluminator allows visualization of agarose gels at long wavelengths.
Auto safety shutoff activates when lid is removed
Repositionable magnetic UV shield accommodates gel excision
Compact footprint saves bench space
The UView 6x mini transilluminator is best for fluorescent applications that require excitation at 365 nm.
ORDER ENQUIRES:
ROI orders / enquiries please contact
+353 1 2907000
+353 1 2907111
NI orders / enquiries please contact
+44 2890 735 588
+44 2890 735 599