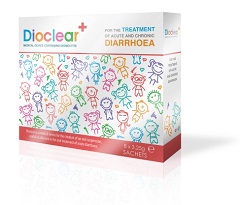 Dioclear
What is Dioclear?
Dioclear is clinically proven to reduce the symptoms of acute and chronic diarrhoea and is recommended by the World Health Organisation.
How does Dioclear work?
Dioclear contains a very fine particle clay, called Diosmectite. It does not enter your bloodstream like other diarrhoea treatment products; it works in the digestive system. Diomectite absorbs water and binds the diarrhoea causing substances, stopping Diarrhoea in its tracks!
Who is Dioclear Suitable for?
It is safe, effective and clinically proven and can be used for the whole family, from infants through to adults.
Does Dioclear have any taste?
It has a pleasant orange flavour
Instructions for Use:
Adults: 1 Sachet 100ml of liquid 3 times per day
Children: > 6 years – 2-3 Sachets per day
Babies: > 1 year – 1-2 Sachets per day
Dissolve the contents in water or other liquid. For babies, the contents of the sachet can be suspended in the bottle feeder in 50ml of water or mixed with any other beverage and divided into 2-3 doses throughout the day. It is also possible to dissolve Dioclear in semisolid feedings. To obtain a homogeneous suspension, pour powder slowly into the liquid and mix well.
Where can I find Dioclear?
It is now available in pharmacies nationwide.
For further information please visit http://dioclear.ie/
ORDER ENQUIRES:
ROI orders / enquiries please contact
+353 1 2907000
+353 1 2907111
This website uses cookies to improve your experience. We'll assume you're ok with this, but you can opt-out if you wish.