Ideos
IDEOS 500mg/400 IU Chewable Tablets
Ideos is indicated as: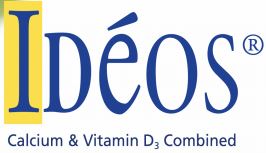 A Vitamin D and calcium deficiency correction in the elderly
Vitamin D and calcium supplementation as an adjunct to specific therapy for osteoporosis in patients with established or at high risk of vitamin D and calcium combined deficiencies.
Ideos contains the active ingredients: Calcium Carbonate (1250mg per tablet) & Cholecalciferol (400IU per tablet).
This product is available in the following presentation:
500mg/400IU tablets which are available in 4 tubes of 15.
It is distributed in Ireland by Fannin Ltd in partnership with Innothera. (This link will take you to a non-Fannin Ltd. website.  Fannin Ltd. does not recommend, endorse or accept liability for sites controlled by third-parties.) 
Learn more about this product by viewing our Ideos Brochure or click here to download a copy of the SPC.
Method of Sale: P
PA Number: PA1033/001/001
MAH Holder: LABORATOIRE INNOTECH INTERNATIONAL 22 avenue Aristide Briand 94110 ARCUEIL FRANCE
For any further information please speak to your local Fannin Representative or contact our medical information department for a copy of the SPC at medical@dccvital.com or via phone on 086-8394447.

Additional information available on request.

Date of preparation: July 2018
IE2018/087/00
ORDER ENQUIRES:
ROI orders / enquiries please contact
+353 1 2907000
+353 1 2907111
This website uses cookies to improve your experience. We'll assume you're ok with this, but you can opt-out if you wish.