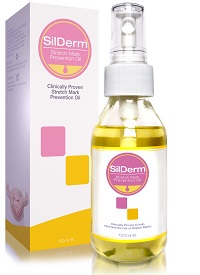 New SilDerm Stretch Mark Oil
SilDerm Stretch Mark Oil
What is SilDerm?
SilDerm is clinically proven to reduce the appearance of both stretch marks and scars.   
Available in:
SilDerm Prevention Oil 120ml
SilDerm Prevention Oil
By using SilDerm Prevention Oil you are 80% less likely to develop stretch marks.
Safe to use during pregnancy 
Contains centella asiatica which promotes the production of collagen
Clinically proven to strengthen the skin in order to prevent tearing as it expands
Easily absorbed
Relaxing lavender scent
Where can I find SilDerm?
In selected pharmacies nationwide
Date of Preparation: January 2019
IE2019/003/00
ORDER ENQUIRES:
ROI orders / enquiries please contact
+353 1 2907000
+353 1 2907111
This website uses cookies to improve your experience. We'll assume you're ok with this, but you can opt-out if you wish.