Altipress Advanced Leg Ulcer Treatment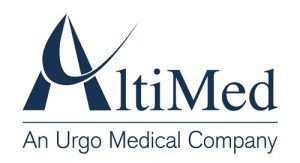 Altipress® Advanced Leg Ulcer Hosiery Treatment Kit offers a practical and discreet alternative to bulky bandage systems, saving application time. The kit consists of two stockings that are worn one on top of the other. The liner offers 10mmHg and the overstocking is a British Standard Class III stocking. Together, they provide the 40mmHg pressure at the ankle recommended for leg ulcer healing.
Liner packs provide 10mmHg and are often used for palliative care, maintenance therapy and for those intolerant to higher levels of compression. They can also be layered to provide higher levels of compression (e.g. 2 liners provides 20mmHg) or worn under other compression stockings.
Altipress is latex free and available in both stock sizes and Made to Measure.
Altipress Stock Range
Kits:
Contain 2 x liners & 1 x outer stocking
Liners available in White
Outer stockings available in Soft Beige
Liner Packs:
Contain 3 x liners
Available in White or Soft Beige
Altipress Made to Measure Range
Kits:
Contain 2 liners & 1 outer stocking
Liners available in White
Outer stockings available in Black or Soft Beige
Liner Packs:
Contain 2 liners
Available in White
ORDER ENQUIRES:
ROI orders / enquiries please contact
+353 1 2907000
+353 1 2907111
NI orders / enquiries please contact
+44 2890 735 588
+44 2890 735 599
This website uses cookies to improve your experience. We'll assume you're ok with this, but you can opt-out if you wish.Accept Read More