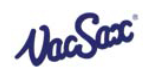 Founded in 1997, VacSax is the UK's leading supplier and manufacturer of disposable suction systems.
Based in Plymouth and employing over 50 people, VacSax has the largest and most comprehensive product range available in the disposable suction market.   The business has an innovative and expanding product base and a strong track record of growth.
From product design through to dispatch VacSax is unrivalled in its dedication to excellence. Our customer service team is always on hand to provide rapid and accurate information and to answer any question a customer may have.
In October 2019, VacSax was acquired by Fannin UK Ltd, which is part of DCC Vital.   The business is very complementary to DCC VItal's existing medical devices and consumables activities in Britain and internationally and will bring new expertise, expanded product portfolio and customer relationships.