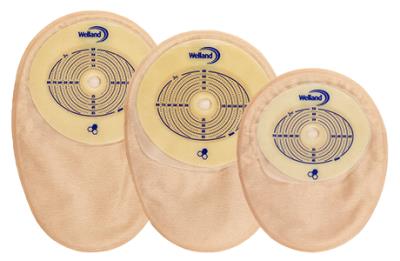 Order Enquiries
ROI Orders
+353 1 2907000

+353 1 2907111
NI Orders
+44 2890 735 588

+44 2890 735 599
Aura Closed

The new Aura Closed colostomy bag features our tried and tested skin-friendly Hyperflex® hydrocolloid flange, with the added benefit of medical grade Manuka honey. Manuka honey is well known for its therapeutic properties and may help to promote healthy skin around the stoma.
The Aura Closed colostomy bag with Manuka honey has several features to meet your need for a comfortable, secure and discreet fit:
New Dual-Carb®2 filter for better deodorisation and reduced ballooning
Easy-to-read flange cutting guide to ensure a perfectly secure fit
Flange up to 22% larger than before; specifically designed to prevent leakage
Handy easy2peel feature to help make pouch changing quick and easy
Super soft water-repellent cover for comfortable wear time
Split back for easy application and monitoring of output
Aura Closed is part of the Aura range and is available in three sizes in a choice of beige or clear. It is our kindest closed colostomy bag yet, designed to give you the confidence and freedom to live life to the full.
Order Enquiries
ROI Orders
+353 1 2907000

+353 1 2907111
NI Orders
+44 2890 735 588

+44 2890 735 599
Related
Laboris nisi ut aliquip ex ea commodo consequat.
This website uses cookies to improve your experience. We'll assume you're ok with this, but you can opt-out if you wish.Accept Read More
Privacy Overview
This website uses cookies to improve your experience while you navigate through the website. Out of these, the cookies that are categorized as necessary are stored on your browser as they are essential for the working of basic functionalities of the website. We also use third-party cookies that help us analyze and understand how you use this website. These cookies will be stored in your browser only with your consent. You also have the option to opt-out of these cookies. But opting out of some of these cookies may affect your browsing experience.
Necessary cookies are absolutely essential for the website to function properly. This category only includes cookies that ensures basic functionalities and security features of the website. These cookies do not store any personal information.
Any cookies that may not be particularly necessary for the website to function and is used specifically to collect user personal data via analytics, ads, other embedded contents are termed as non-necessary cookies. It is mandatory to procure user consent prior to running these cookies on your website.