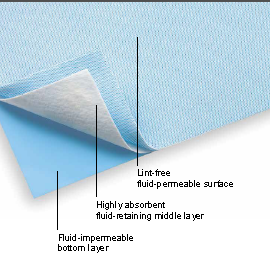 Chemoprotect® Prep mat

The CODAN Chemoprotect® product range offers safe and reliable protection of personnel in the handling of cytotoxic drugs.
The combined use of specially matched individual  products considerably minimizes the risk of contaminations in the regular handling of cytotoxic drugs, as well as in the event of accidents (spills).
The exceptional reliability of the Chemoprotect® system is confirmed by the certification of the most important products as Personal Protective Equipment (PPE) according to the European Directive 89/686/EEC.
Safe base
The Chemoprotect® prep mat has been specially developed for cytotoxic drug preparation. The three layer structure of the material allows safe working and risk-free subsequent disposal. The prep mat is available sterile or non-sterile in two sizes for most workplace dimensions. 
Dimensions:
Large prep mat: 41 x 54 cm
Small prep mat: 27 x 42 cm
ORDER ENQUIRES:
ROI orders / enquiries please contact
+353 1 2907000
+353 1 2907111
NI orders / enquiries please contact
+44 2890 735 588
+44 2890 735 599