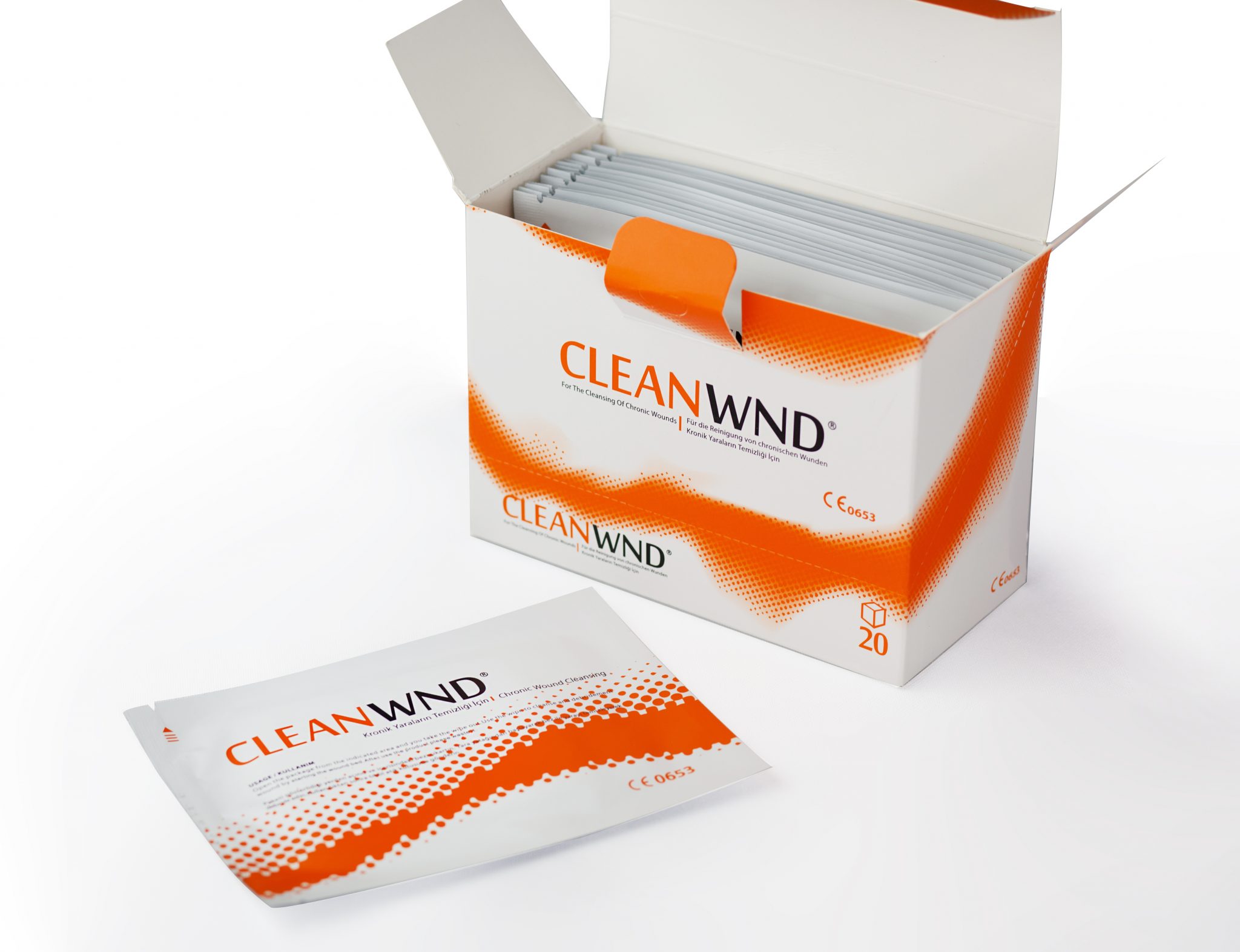 Order Enquiries
ROI Orders
+353 1 2907000

+353 1 2907111
NI Orders
+44 2890 735 588

+44 2890 735 599
CleanWnd
Wound and chronic wound debridement and cleansing
Contains Sodium Hyaluronate, Phospholipids and Aloe Vera
CLEANWND® has been designed to cleanse and debride wounds with a solution of Sodium Hyaluronate and Phospholipid which is suitable for wound cleansing at every dressing change. CLEANWND's non-woven impregnated cloth is manufactured by the needle punch method and contains short fibres enabling it to collect wound debris easily during mechanical debridement without leaving any residual lint.
For acute and chronic wounds
Cleansing and debridement
Pre-moistened with a solution of Sodium Hyaluronate, Phosolipids and Aloe Vera
Simple and easy to use
Cost effective
Hyaluronic acid (HA) is a major component of the extracellular matrix of the skin and plays an important role in the metabolism of the dermis. It has a key position in wound healing and tissue repair processes owing to its ability to maintain a humid environment favorable to healing and the stimulation of growth factors, cellular constituents, and the migration of various cells essential for healing. ¹ Article in SKINmed 15(6):441-448 . December 2017
Phospholipid The Phospholipid in CLEANWND acts as a surfactant to provide cleansing and also protection by replacing some of the phospholipid lost by the damaged and fragile tissue. A reduction in infection and increase in granulation tissue have been observed in pressure ulcers and venous leg ulcers when wound cleansing products containing phospholipids have been used in conjunction with standard wound care. ² The Turkish Anaesthesiology and Reanimation Association: Report Registration No: 638 Ref: 13FC7116 – DE69 – 4486 – 8A71 – B946A40E15DE 11 October 2011 Presentation Code: (P – 449)
To request your free sample, please complete the form below:
Order Enquiries
ROI Orders
+353 1 2907000

+353 1 2907111
NI Orders
+44 2890 735 588

+44 2890 735 599
This website uses cookies to improve your experience. We'll assume you're ok with this, but you can opt-out if you wish.Accept Read More
Privacy Overview
This website uses cookies to improve your experience while you navigate through the website. Out of these, the cookies that are categorized as necessary are stored on your browser as they are essential for the working of basic functionalities of the website. We also use third-party cookies that help us analyze and understand how you use this website. These cookies will be stored in your browser only with your consent. You also have the option to opt-out of these cookies. But opting out of some of these cookies may affect your browsing experience.
Necessary cookies are absolutely essential for the website to function properly. This category only includes cookies that ensures basic functionalities and security features of the website. These cookies do not store any personal information.
Any cookies that may not be particularly necessary for the website to function and is used specifically to collect user personal data via analytics, ads, other embedded contents are termed as non-necessary cookies. It is mandatory to procure user consent prior to running these cookies on your website.