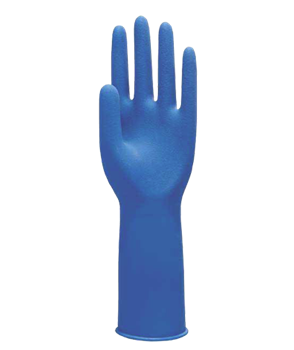 Order Enquiries
ROI Orders
+353 1 2907000

+353 1 2907111
NI Orders
+44 2890 735 588

+44 2890 735 599
Dermagrip High Risk Examination Gloves
Added protection
Medical gloves provide protection from unwanted and dangerous substances for both professionals and their patients. DERMAGRIP® High Risk Examination Gloves are designed to meet and exceed international product standards using sophisticated technologies and innovations to deliver uncompromised protection to its users.
DERMAGRIP® High Risk Examination Gloves provide unparalleled and added protection in high risk situations. Thicker and stronger than normal examination gloves, these gloves are the ideal choice in situations such as trauma, medical waste handling and decontamination.  They are especially suitable for use by emergency response professional such as ambulance attendants, firemen and policemen. 
Type
Powder free, extra-thick extra-long and non-sterile
Primary Materials
Natural rubber latex
Powder
No powder lubricant added. Light chlorinated on glove surface
Protein Content
This latex glove contains 50 micrograms or less of total water extractable protein per gram of glove
Color
Blue (PMS 307)
Design and Feature
Ambidextrous, straight fingers, textured surface all over fingers area (E4) and beaded cuff
Packing
50 gloves per dispenser, 10 dispensers per carton
Product Conformance

Medical Device: in compliance with European Medical Device Directive 93/42/EEC (CE Class I)
EN 455-1:2000, EN 455-2:2015, EN 455-3:2015, EN 455-4:2009
ASTM D3578
Personal Protective Equipment of Complex Design Category III, in compliance with 89/686/EEC, type tested to EN 420:2003+A1:2009, EN ISO 374-1:2016 Type B, EN 374-2:2014, EN 16523-1:2015, EN 374-4:2013 & EN ISO 374-5:2016, CE 2797
Order Enquiries
ROI Orders
+353 1 2907000

+353 1 2907111
NI Orders
+44 2890 735 588

+44 2890 735 599
This website uses cookies to improve your experience. We'll assume you're ok with this, but you can opt-out if you wish.Accept Read More
Privacy Overview
This website uses cookies to improve your experience while you navigate through the website. Out of these, the cookies that are categorized as necessary are stored on your browser as they are essential for the working of basic functionalities of the website. We also use third-party cookies that help us analyze and understand how you use this website. These cookies will be stored in your browser only with your consent. You also have the option to opt-out of these cookies. But opting out of some of these cookies may affect your browsing experience.
Necessary cookies are absolutely essential for the website to function properly. This category only includes cookies that ensures basic functionalities and security features of the website. These cookies do not store any personal information.
Any cookies that may not be particularly necessary for the website to function and is used specifically to collect user personal data via analytics, ads, other embedded contents are termed as non-necessary cookies. It is mandatory to procure user consent prior to running these cookies on your website.