Order Enquiries
ROI Orders
+353 1 2907000

+353 1 2907111
NI Orders
+44 2890 735 588

+44 2890 735 599
Entrina Mattress Replacement
S2203-2070
Anti-Decubitus Alternating

Air Mattress Replacement System
With I.P.S. Intelligent Pressure Sensing technology, Entrina provides maximum pressure relief therapy and superior comfort. Entrina's mattress is composed of a 2" foam base and 16 individual 5-inch tall air cell to make it suitable for medium to high risk patient and pressure ulcer treatment up to stage III.
Features
Featured with electronic pressure sensor.
Lockable Knob Select—from 1 to 5 suitable for patient's weight from 30kgs to 150kgs.
Heavy Enclosure—Extra Low Noise Operation lower than 23dB/190cm
Replaceable Tube Type Mattress—More Convenient and Economic—
The mattress is composed of a 2-inch foam base and 16 individual 5" tall air cells.
Micro-Ventilated Air Cells—allow for great air circulation and optimal patient moisture and temperature regulation from shoulders to waist.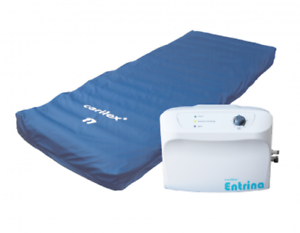 Carilex Entrina PDF
Order Enquiries
ROI Orders
+353 1 2907000

+353 1 2907111
NI Orders
+44 2890 735 588

+44 2890 735 599
This website uses cookies to improve your experience. We'll assume you're ok with this, but you can opt-out if you wish.Accept Read More
Privacy Overview
This website uses cookies to improve your experience while you navigate through the website. Out of these, the cookies that are categorized as necessary are stored on your browser as they are essential for the working of basic functionalities of the website. We also use third-party cookies that help us analyze and understand how you use this website. These cookies will be stored in your browser only with your consent. You also have the option to opt-out of these cookies. But opting out of some of these cookies may affect your browsing experience.
Necessary cookies are absolutely essential for the website to function properly. This category only includes cookies that ensures basic functionalities and security features of the website. These cookies do not store any personal information.
Any cookies that may not be particularly necessary for the website to function and is used specifically to collect user personal data via analytics, ads, other embedded contents are termed as non-necessary cookies. It is mandatory to procure user consent prior to running these cookies on your website.