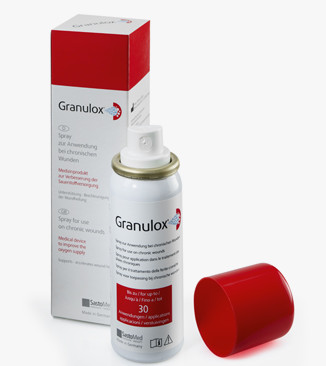 Order Enquiries
ROI Orders
+353 1 2907000

+353 1 2907111
NI Orders
+44 2890 735 588

+44 2890 735 599
Granulox
Wound Oxygenation Spray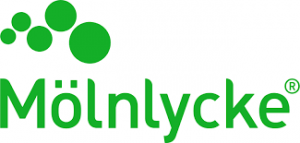 A topical haemoglobin-based spray for the treatment of chronic wounds
Granulox® is an oxygenating spray for the treatment of chronic wounds, including diabetic foot ulcers, venous leg ulcers, arterial leg ulcers, and mixed leg ulcers for the secondary healing of surgical wounds and pressure sores   . It can also be used on healing of sloughy and infected wounds  .
When Granulox is sprayed on a wound, highly purified haemoglobin is released. This binds with oxygen from the environment and diffuses through the wound exudate, and the haemoglobin supplies the base of the wound topically with oxygen. The oxygen supply to the base of the wound supports wound healing and patient outcomes  .
A convenient spray application makes Granulox a portable and easy-to-use adjunct to standard of care wound treatment. Granulox can be applied when the wound dressing is changed, and at least every three days for optimal results.
Studies report that using Granulox results in shorter healing time, reduced pain scores and total cost savings for healthcare providers compared to standard of care .
Twice as many chronic wounds healed at 8–16 weeks compared to standard of care  
Time to heal diabetic foot ulcers 50% shorter than with standard of care  
Treatment costs in diabetic foot ulcers at least 40% lower than with standard of care
More than 70% of patients reported lower average pain scores at four weeks than with standard of care in chronic wounds  
99% less slough in chronic wounds after 4 weeks compared to 33% with standard of care  
To learn more about Granulox Wound Oxygenation Spray or to speak to a Product Specialist, complete the form below:
Order Enquiries
ROI Orders
+353 1 2907000

+353 1 2907111
NI Orders
+44 2890 735 588

+44 2890 735 599
This website uses cookies to improve your experience. We'll assume you're ok with this, but you can opt-out if you wish.Accept Read More
Privacy Overview
This website uses cookies to improve your experience while you navigate through the website. Out of these, the cookies that are categorized as necessary are stored on your browser as they are essential for the working of basic functionalities of the website. We also use third-party cookies that help us analyze and understand how you use this website. These cookies will be stored in your browser only with your consent. You also have the option to opt-out of these cookies. But opting out of some of these cookies may affect your browsing experience.
Necessary cookies are absolutely essential for the website to function properly. This category only includes cookies that ensures basic functionalities and security features of the website. These cookies do not store any personal information.
Any cookies that may not be particularly necessary for the website to function and is used specifically to collect user personal data via analytics, ads, other embedded contents are termed as non-necessary cookies. It is mandatory to procure user consent prior to running these cookies on your website.