SKINTACT® Premier Range – Centre Connection
Our SKINTACT® ECG electrodes on cards of six or ten are our no compromise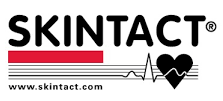 attitude to quality and variety at very competitive prices.
Quick'n'Easy.
SKINTACT® Low Cost Multipurpose ECG Electrodes come on handy cards of six or ten pieces. A perforation in the middle can be used to tear the card apart giving you two strips of three or five.
​Superior Design.
 The label material overlaps the electrode and creates a lift tab which allows the clinical staff to handle the electrode easily even when wearing surgical gloves.
​Secure Adhesion. 
The enhanced adhesion of  SKINTACT®  assures that the electrodes stick very securely ensuring good contact even when the patient is perspiring.
Products available
| | |
| --- | --- |
| CT601      | Adult short term ECG monitoring electrode 50mm dia cleartape backed with centre stud and removal tab – Aqua-Tac |
| F1RHC  | Foam backed total cover solid gel ECG electrode with radiotranslucent stud 38x38mm  Aqua-Tac |
| FTB         | Adult short term ECG monitoring electrode 50mm dia foam backed centre stud with removal tab Aqua -Wet |
|   |   |
| F1RHC | Adult short term ECG monitoring electrode 45mm dia foam backed centre stud with removal tab Aqua -Wet |
| FSTF/6          | Adult short term ECG monitoring electrode 45mm dia foam backed centre stud with removal tab 6 on a card Aqua -Wet |
| FTB1           | Adult short term ECG monitoring electrode 50mm dia foam backed centre stud with removal tab backed centre stud with removal tab Aqua-Tac |
| FSRE           | Adult short term ECG monitoring electrode 32x44mm foam backed centre stud in strips of 3 Aqua -Wet |
| FSRB5       | Adult 12 lead ECG resting electrode 28x44mm foam backed centre stud 4mm slot connector in strips of 3 Aqua -Wet |
| XL-BC1 | Universal long or short term ECG monitoring electrode 35mm diameter foam backed enhanced adhesive with centre stud and removal tab Aqua-Tac |
| XL-BC1C | Universal long or short term ECG monitoring electrode 35mm diameter foam backed enhanced adhesive with radiotransclucent centre stud and removal tab Aqua-Tac |
| XL-BRE | Adult short term ECG monitoring electrode 32x40mm foam backed with centre stud in strips of 5 Aqua-Tac |
| FSTC1       | Universal long or short term ECG monitoring electrode 35mm diameter foam backed enhanced adhesive with centre stud and removal tab Aqua-Tac |
| FSTC1/1.0  | Universal long or short term ECG monitoring electrode 35mm diameter foam backed enhanced adhesive with centre stud and removal tab 1mm foam 6 on a card total label cover Aqua-Tac |
| F-RG1/6          | Adult short term ECG monitoring electrode 32x40mm foam backed with centre stud in strips of 5 Aqua-Tac |
| FS524       | Adult oval, centre stud ECG monitoring/Stress electrode with removal tab, enhanced adhesive Aqua -Set |
| FSTA          | Adult/paediatric long/short term ECG monitoring,stress test electrode 37mm diameter foam backed centre stud 1.5mm enhanced adhesive with removal tab Aqua-Wet |
| FREC         | Adult short term ECG monitoring electrode 32x44mm foam backed centre stud radiotranslucent strips of 3 Aqua-Wet |
| FS50C | Adult short term round  ECG monitoring electrode 50mm, Foam,  centre snap radio translucent Aqua-Wet |
| FTB/3         | Adult short term ECG monitoring electrode 50mm diameter foam backed centre stud with removal tab packs of 3 Aqua-Wet |
| T602            | Adult long term ECG monitoring electrode 60mm diameter microtape backed with centre stud Aqua -Tac |
| T-60/1200             | Adult long term ECG monitoring electrode 60mm micropore tape backed with centre stud Aqua-Wet |
| W1RHC          | Universal Cloth backed ECG monitoring electrode Radiotranslucent centre stud hypoallergenic total contact area hydrogel 3 per pack Aqua -Tac |
| W601/1200              | Adult long term ECG monitoring electrode 50mm diameter cloth backed with centre stud Aqua -Tac |
| W602       | Adult/holtor/long term ECG monitoring electrode 60mm diameter cloth backed with centre stud Aqua -Tac |
| W60            | Adult long term ECG monitoring/holtor electrode 60mm diameter cloth backed with centre stud Aqua-Wet |
Skintact Premier Range – Centre Connection – Paediatric:
| | |
| --- | --- |
| F301          | Paediatric short term ECG monitoring electrode 30mm diameter foam backed centre stud cat design Aqua -Tac |
| W401           | Paediatric short/long term ECG monitoring electrode 40mm diameter cloth backed centre stud duck design Aqua -Tac |
ORDER ENQUIRES:
UK orders / enquiries please contact
This website uses cookies to improve your experience. We'll assume you're ok with this, but you can opt-out if you wish.Accept Read More