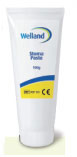 Order Enquiries
ROI Orders
+353 1 2907000

+353 1 2907111
NI Orders
+44 2890 735 588

+44 2890 735 599
Welland Stoma Paste

A hypoallergenic, alcohol-free, no-sting paste for use on uneven skin around a stoma. It smoothes and levels minor skin irregularities, creating an ideal base to improve the fit of your stoma bag. The paste helps form a perfect seal, so you can feel confident it will be held safely and securely in place.
Welland Stoma Paste is supplied in a squeezable 100g tube.
Gentle and sensitive to your skin
Alcohol-free and hypoallergenic
Will not sting or irritate the skin on application
Suitable for most skin types
A smooth, sealed surface
Used to fill skin dips and smooth over scar lines, creating a smooth and even surface
Creates a perfect seal; reducing the chance of fluid leaking beneath the flange and causing skin irritation and damage
Easy, pliable application
The soft, squeezable tube makes it easy to apply
Throughout application the paste will remain pliable, allowing flexibility for moulding to fill gaps and smoothing over scar lines
Durable; long lasting
The durability of the paste will give a long-lasting performance
Holds your stoma bag securely in place, preventing leakage and sore skin
Order Enquiries
ROI Orders
+353 1 2907000

+353 1 2907111
NI Orders
+44 2890 735 588

+44 2890 735 599
Related
Laboris nisi ut aliquip ex ea commodo consequat.
This website uses cookies to improve your experience. We'll assume you're ok with this, but you can opt-out if you wish.Accept Read More
Privacy Overview
This website uses cookies to improve your experience while you navigate through the website. Out of these, the cookies that are categorized as necessary are stored on your browser as they are essential for the working of basic functionalities of the website. We also use third-party cookies that help us analyze and understand how you use this website. These cookies will be stored in your browser only with your consent. You also have the option to opt-out of these cookies. But opting out of some of these cookies may affect your browsing experience.
Necessary cookies are absolutely essential for the website to function properly. This category only includes cookies that ensures basic functionalities and security features of the website. These cookies do not store any personal information.
Any cookies that may not be particularly necessary for the website to function and is used specifically to collect user personal data via analytics, ads, other embedded contents are termed as non-necessary cookies. It is mandatory to procure user consent prior to running these cookies on your website.