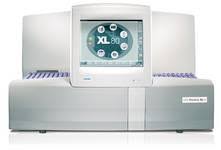 ABX Pentra XL 80 Haemotology Analyser

Overview
Ideal for "hot lab" working.
Integrated Workstation with Color Touch Screen.
Micro-sampling from whole blood (CBC: 35 µL – DIFF: 53 µL). 
Cytochemistry, Impedance (real cell volume measurement) & Optical (analysis of the internal cellular structure by measuring light absorbance) – DHSS* Technology.
Perfect homogenization of blood samples with reagents – MDSS** Technology.
Features
Throughput: Up to 80 samples/hour
Large capacity auto-loader (100 tubes)
Stat sampling on open or closed tubes
Automatic Sample Re-run
Reagents: Only 4 onboard reagents and 1 diluent
Perfect differentiation of the 5 WBC sub-populations with DHSS* Technology
3 histograms for RBC, BAS/WBC and PLT together with the 5 DIFF Matrix
Basophils counted through specific channel
High resolution matrix
Customized Dilution Ratio (CDR)
Integrated Validation Station  
* DHSS: Double Hydrodynamic Sequential System (HORIBA Medical Patent)
** MDSS: Multi-Distribution Sampling System (HORIBA Medical Patent)
ORDER ENQUIRES:
ROI orders / enquiries please contact
+353 1 2907000
+353 1 2907111
NI orders / enquiries please contact
+44 2890 735 588
+44 2890 735 599
This website uses cookies to improve your experience. We'll assume you're ok with this, but you can opt-out if you wish.Accept Read More
Privacy Overview
This website uses cookies to improve your experience while you navigate through the website. Out of these, the cookies that are categorized as necessary are stored on your browser as they are essential for the working of basic functionalities of the website. We also use third-party cookies that help us analyze and understand how you use this website. These cookies will be stored in your browser only with your consent. You also have the option to opt-out of these cookies. But opting out of some of these cookies may affect your browsing experience.
Necessary cookies are absolutely essential for the website to function properly. This category only includes cookies that ensures basic functionalities and security features of the website. These cookies do not store any personal information.
Any cookies that may not be particularly necessary for the website to function and is used specifically to collect user personal data via analytics, ads, other embedded contents are termed as non-necessary cookies. It is mandatory to procure user consent prior to running these cookies on your website.