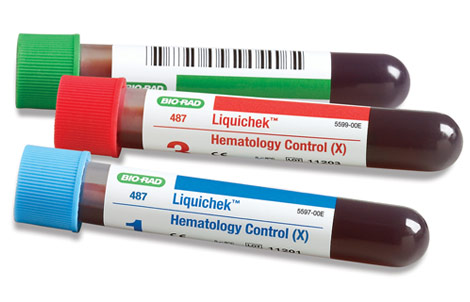 Order Enquiries
ROI Orders
+353 1 2907000

+353 1 2907111
NI Orders
+44 2890 735 588

+44 2890 735 599
BioRad Third Party Controls

Having the right products when you need them is critical to keeping your lab running smoothly and maintaining your quality system. When it comes to independent quality controls, Bio-Rad offers a comprehensive portfolio; the right quality controls, an expert and responsive customer service, and data management solutions that work harder for you. .
More laboratories trust Bio-Rad for independent quality control products than any other manufacturer. Independent quality controls help give you greater confidence in your results because they provide unbiased assessment of the measuring and calibration procedures.
You can count on BioRads consistent quality products to help assure the reliability of your patient results. The majority of independent control materials consist of a human base matrix that provides a product that closely mimics a patient sample. Most controls offer a long shelf life which allows the same control lot to be used across multiple reagent lots. Bio-Rad controls offer long term reagent performance monitoring, which enables it to detect shifts that may occur with new lot of reagents and calibrators
Order Enquiries
ROI Orders
+353 1 2907000

+353 1 2907111
NI Orders
+44 2890 735 588

+44 2890 735 599
This website uses cookies to improve your experience. We'll assume you're ok with this, but you can opt-out if you wish.Accept Read More
Privacy Overview
This website uses cookies to improve your experience while you navigate through the website. Out of these, the cookies that are categorized as necessary are stored on your browser as they are essential for the working of basic functionalities of the website. We also use third-party cookies that help us analyze and understand how you use this website. These cookies will be stored in your browser only with your consent. You also have the option to opt-out of these cookies. But opting out of some of these cookies may affect your browsing experience.
Necessary cookies are absolutely essential for the website to function properly. This category only includes cookies that ensures basic functionalities and security features of the website. These cookies do not store any personal information.
Any cookies that may not be particularly necessary for the website to function and is used specifically to collect user personal data via analytics, ads, other embedded contents are termed as non-necessary cookies. It is mandatory to procure user consent prior to running these cookies on your website.