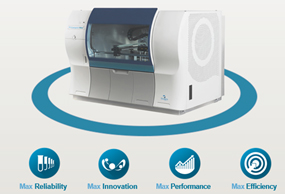 Order Enquiries
ROI Orders
+353 1 2907000

+353 1 2907111
NI Orders
+44 2890 735 588

+44 2890 735 599
Compact Max 3 Coagulation Analyser
Innovation born from Expertise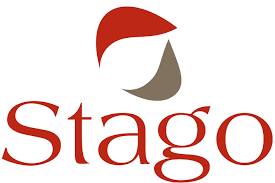 The STA Compact Max 3 offers significant performance improvements and includes the EPC (expert pre-analytical check) module.
This EPC module controls fill volumes of all types of tubes and detects haemolysed, icteric and lipemic samples, allowing the STA Compact Max 3 to check sample integrity to ensure quality results. It requires no additional plasma volume and does not affect throughput.  
In addition to automating sample integrity checks, the STA Compact Max® 3 makes optimum use of patient samples. Stago employs a unique, mechanical viscosity-based detection system in all its systems offering a reliable-result guarantee, since measurements are not affected by optical interference, as well as optimum sensitivity for weak clot detection. 
The STA Compact Max® 3 has an innovative hardware design that makes it more user-friendly and efficient, to optimise productivity while keeping user maintenance operations and manual interventions to a minimum (with a PSR [single resolution pipettor] module and new cap piercing needle). 
Its hardware innovations are supported by new software tools, allowing your laboratory to benefit from Stago's expertise and quality commitment. Traceability has been improved, to provide a verifiable record of each variable used to obtain patients' results, while factor parallelism, programmable and automated reflex testing rules and clinical algorithms mean you benefit daily from the know-how of recognised experts.  
The STA Compact Max® 3 has the largest sample, reagent and disposables capacity in its class, offering greater autonomy. Its systems are built around a random-access architecture, allowing effective STAT management, promising a fast turnaround time for urgent samples and ensuring the kind of outstanding performance you have come to expect from a Stago analyser. 
The STA Compact Max® 3 also benefits from Stago's innovative and unparalleled support service, to help our customers guarantee operational certainty. This includes remote diagnosis and troubleshooting as well as access to the automated Stago externalised IQC platform: My Expert QC.  
Sample and reagent management has also been improved and simplified in the STA Compact Max® 3 for even greater efficiency. Routine and specialised tests can be performed side by side and the wide range of ready-to-use and highly stable liquid Stago reagents minimises preparation time.  
Boasting a unique Stago pre-calibration function, fully automatic barcoded reagent management and the ability to manage multiple reagent lots at the same time, these systems are designed to meet the challenges of today's clinical laboratories. These features are supported by Stago accreditation tools to ensure simple and seamless compliance with quality standards.
Order Enquiries
ROI Orders
+353 1 2907000

+353 1 2907111
NI Orders
+44 2890 735 588

+44 2890 735 599
This website uses cookies to improve your experience. We'll assume you're ok with this, but you can opt-out if you wish.Accept Read More
Privacy Overview
This website uses cookies to improve your experience while you navigate through the website. Out of these, the cookies that are categorized as necessary are stored on your browser as they are essential for the working of basic functionalities of the website. We also use third-party cookies that help us analyze and understand how you use this website. These cookies will be stored in your browser only with your consent. You also have the option to opt-out of these cookies. But opting out of some of these cookies may affect your browsing experience.
Necessary cookies are absolutely essential for the website to function properly. This category only includes cookies that ensures basic functionalities and security features of the website. These cookies do not store any personal information.
Any cookies that may not be particularly necessary for the website to function and is used specifically to collect user personal data via analytics, ads, other embedded contents are termed as non-necessary cookies. It is mandatory to procure user consent prior to running these cookies on your website.