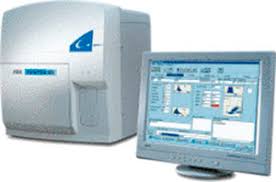 PENTRA ES 60 Haematology Analyser
Open tube analysis with a dedicated workstation ensuring complete convenience and flexibility

Overview
Ideal for clinical research

Data management on stand-alone PC.

Micro-sampling from whole boold (CBC : 30 µL – DIFF: 53 µL) 

Cytochemistry, Impedance (real cell volume measurement) & Optical (analysis of the internal cellular structure by measuring light absorbance) – DHSS* Technology.

Perfect homogenization of blood samples with reagents – MDSS** Technology.
Features
Throughput: Up to 60 samples/hour
Reagents: Only 4 onboard reagents and 1 diluent
Perfect differentiation of the 5 WBC sub-populations with DHSS* Technology
3 histograms for RBC, BAS/WBC and PLT together with the 5 DIFF Matrix.
Basophils counted through specific channel
High resolution matrix includes the determination of 2 additional subpopulations (% and #): Atypical Lymphocytes (ALY***) and Large Immature Cells (LIC***)  
* DHSS : Double Hydrodynamic Sequential System (HORIBA Medical Patent)
** MDSS : Multi-Distribution Sampling System (HORIBA Medical Patent)
*** RUO parameters (Research Use Only)
ORDER ENQUIRES:
ROI orders / enquiries please contact
+353 1 2907000
+353 1 2907111
NI orders / enquiries please contact
+44 2890 735 588
+44 2890 735 599
This website uses cookies to improve your experience. We'll assume you're ok with this, but you can opt-out if you wish.Accept Read More