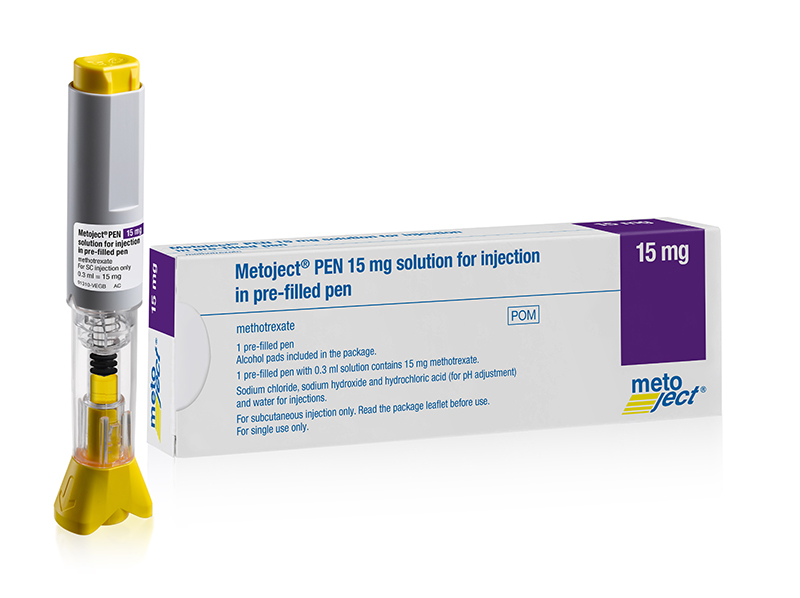 Metoject Pre-Filled Pen
Metoject Solution for Injection Pre-Filled Pen is indicated for the treatment of:

Active rheumatoid arthritis in adult patients
Severe recalcitrant disabling psoriasis, which is not adequately responsive to other forms of therapy such as phototherapy, PUVA, and retinoids, and severe psoriatic arthritis in adult patients
This product is available in the following presentations:
We also offer a Home Rheumatology/Methotrexate Program which is available nationwide for patients with rheumatoid arthritis. The service allows patients administer their pre-filled Metoject® Pen at home, providing expert training in subcutaneous self-administration of Metoject® pen from our dedicated expert nursing team. Training can take place in the hospital, the patient's home or a designated health care facility. This is supported by our 'Sharps Bin Waste Disposal Service' to ensure the responsible disposal of used pens. For further information please click here or email metoject@fannin.eu.  Healthcare professionals can also refer patients for these services by using our new 'Metoject At Home Online Portal', follow our link to the portal click here.  A step by step user guide is also available Metoject Portal User guide.
Method of Sale: POM
License Number: PA 0623/014/002 – 06
Metoject® is distributed in the Republic of Ireland by Fannin Ltd in partnership with Medac. (This link will take you to a non-Fannin Ltd. website.  Fannin Ltd. does not recommend, endorse or accept liability for sites controlled by third-parties.) 
License Holder: Medac, Gesellschaft für klinische Spezialpräparate mbH, Theatersrt. 6, 22880 Wedel, Germany
For any further information please speak to your local Fannin Representative or for a copy of the SPC please contact our medical information department at medical@dccvital.com or via phone on 0868394447.
Additional information available on request.
IE2019/001/01
Date of Preparation: December 2019
ORDER ENQUIRES:
ROI orders / enquiries please contact
+353 1 2907000
+353 1 2907111
This website uses cookies to improve your experience. We'll assume you're ok with this, but you can opt-out if you wish.Accept Read More