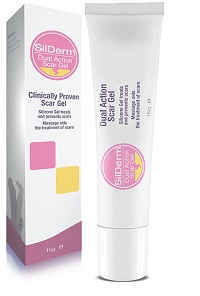 Silderm Dual Action Scar Gel
What is SilDerm Dual Action Scar Gel?
SilDerm Dual Action Scar Gel is combines a unique dual action roller ball head which massages the scar as it applies a thin layer of silicone gel. The dual action formula:
Combines both silicone and massage for proven results  
Helps to reduce redness and flatten scars
Creates a protective barrier on top of the scar
Fast drying
Unique roller ball head for easy application
Available in:
Where is SilDerm available
In selected pharmacies nationwide, see our list of stockists: SilDerm Stockists or email silderm@fannin.eu
For any further information please speak to your local Fannin Representative or contact our medical information department at medical@dccvital.com or via phone on 01 2907000.
Date of Preparation: January 2019
IE2019/005/00
ORDER ENQUIRES:
ROI orders / enquiries please contact
+353 1 2907000
+353 1 2907111
This website uses cookies to improve your experience. We'll assume you're ok with this, but you can opt-out if you wish.Accept Read More
Privacy Overview
This website uses cookies to improve your experience while you navigate through the website. Out of these, the cookies that are categorized as necessary are stored on your browser as they are essential for the working of basic functionalities of the website. We also use third-party cookies that help us analyze and understand how you use this website. These cookies will be stored in your browser only with your consent. You also have the option to opt-out of these cookies. But opting out of some of these cookies may affect your browsing experience.
Necessary cookies are absolutely essential for the website to function properly. This category only includes cookies that ensures basic functionalities and security features of the website. These cookies do not store any personal information.
Any cookies that may not be particularly necessary for the website to function and is used specifically to collect user personal data via analytics, ads, other embedded contents are termed as non-necessary cookies. It is mandatory to procure user consent prior to running these cookies on your website.