Order Enquiries
ROI Orders
+353 1 2907000

+353 1 2907111
NI Orders
+44 2890 735 588

+44 2890 735 599
Alarm Monitor
091514504
For use with the Patterson Medical wheelchair sensor pads and bed sensor pads. The units are easy to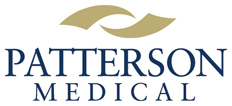 move from wheelchairs to beds and the state-of-the-art technology ensures patient safety. These monitors, along with the new Patterson Medical pads, activate an alarm when a patient stands up or shifts weight off the pad. Sensor Pad Connect (green flash): Indicates that the alarm and pad have been connected and the alarm system is ready to use. Green flash goes off when pad is lost, not connected or faulty.
Low Battery Alert (amber flash): If light is flashing, replace battery immediately.
Alarm Alert (red flash): Patient has moved off the pad and needs assistance.
Reset button needs to be pressed 3 times in 2 seconds to reset alarm.
This helps to prevent patient tampering.
Includes a mounting strap, mounting hardware and a 9V battery.
Economy and Standard Alarm Monitors have two tones to choose from, and the Deluxe Alarm Monitor has one tone and a voice record feature.
Available with AC adapter and bed bracket.
Order Enquiries
ROI Orders
+353 1 2907000

+353 1 2907111
NI Orders
+44 2890 735 588

+44 2890 735 599
This website uses cookies to improve your experience. We'll assume you're ok with this, but you can opt-out if you wish.Accept Read More
Privacy Overview
This website uses cookies to improve your experience while you navigate through the website. Out of these, the cookies that are categorized as necessary are stored on your browser as they are essential for the working of basic functionalities of the website. We also use third-party cookies that help us analyze and understand how you use this website. These cookies will be stored in your browser only with your consent. You also have the option to opt-out of these cookies. But opting out of some of these cookies may affect your browsing experience.
Necessary cookies are absolutely essential for the website to function properly. This category only includes cookies that ensures basic functionalities and security features of the website. These cookies do not store any personal information.
Any cookies that may not be particularly necessary for the website to function and is used specifically to collect user personal data via analytics, ads, other embedded contents are termed as non-necessary cookies. It is mandatory to procure user consent prior to running these cookies on your website.