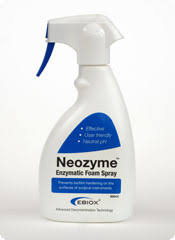 Ebiox Advanced Instrument Cleaning

Ebiox advanced decontamination technology has developed a unique and highly effective range of surgical instrument cleaning products that represent the latest advances in technology.
The Neozyme ™ and Ultra™ products comprise a comprehensive range that has been specifically designed to assist in the pre-wash storage, decontamination, and maintenance of surgical instruments.
When used separately, every product will give outstanding results but, when used together in their specific areas of use, the synergistic effect enhances performance providing users with an exceptional means of cleaning surgical instruments to the molecular level*.
ORDER ENQUIRES:
ROI orders / enquiries please contact
+353 1 2907000
+353 1 2907111
NI orders / enquiries please contact
+44 2890 735 588
+44 2890 735 599