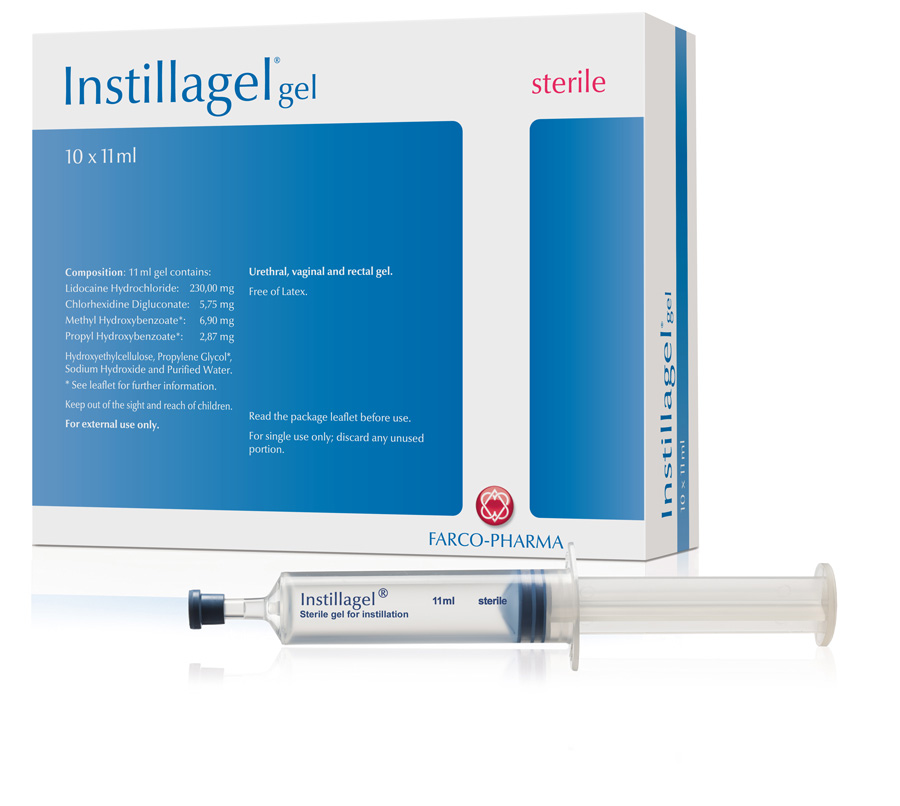 Instillagel®
Successfully proven, sterile lubricant with local anaesthetic and disinfecting properties
Instillagel® is a long-standing, successfully proven, sterile, cellulose-based lubricant with local anaesthetic and disinfecting properties. With its exceptional and proven local anaesthetic and disinfecting action, it is suitable for nearly all urological indications. The lubricant adheres well to the mucosa and has outstanding and long-lasting lubricating properties that prevent it from quickly drying out or drying onto the mucosa. At the same time, it leaves instrument lenses with a clear view; it is also water-soluble and free of lipids and latex.
Pain-free examinations and procedures
The application form for Instillagel® is a sterile, ready-to-use syringe. It provides for easy handling and ensures direct instillation of the lubricant into the urethra. The uniform and complete coating of the urethra with Instillagel® significantly reduces the friction between the inserted instrument and the urethra, thus providing for optimal prevention of injuries. Injury of the sensitive mucosa and any resulting narrowing of the urethra are optimally prevented. In addition, its local anaesthetic provides the patient with a pain-free, more relaxed experience during examinations and procedures. At the same time, the clinically proven antiseptic effect of Instillagel® provides the additional benefit of eliminating any existing bacteria, considerably reducing the risk of infection.
Instillagel Patient Information Leaflet
ORDER ENQUIRES:
ROI orders / enquiries please contact
+353 1 2907000
+353 1 2907111
NI orders / enquiries please contact
+44 2890 735 588
+44 2890 735 599
This website uses cookies to improve your experience. We'll assume you're ok with this, but you can opt-out if you wish.Accept Read More
Privacy Overview
This website uses cookies to improve your experience while you navigate through the website. Out of these, the cookies that are categorized as necessary are stored on your browser as they are essential for the working of basic functionalities of the website. We also use third-party cookies that help us analyze and understand how you use this website. These cookies will be stored in your browser only with your consent. You also have the option to opt-out of these cookies. But opting out of some of these cookies may affect your browsing experience.
Necessary cookies are absolutely essential for the website to function properly. This category only includes cookies that ensures basic functionalities and security features of the website. These cookies do not store any personal information.
Any cookies that may not be particularly necessary for the website to function and is used specifically to collect user personal data via analytics, ads, other embedded contents are termed as non-necessary cookies. It is mandatory to procure user consent prior to running these cookies on your website.