Order Enquiries
ROI Orders
+353 1 2907000

+353 1 2907111
NI Orders
+44 2890 735 588

+44 2890 735 599
Magnetic Pull-Cord Alarm
091514470
This simple alarm is easy to operate, allows a quick response and is reliable and economical too. It is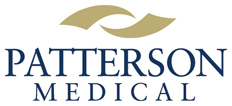 designed to be used on chairs with the cord attached to patient's clothes so that the alarm is activated when the cord is pulled as a result of the patient starting to stand. The pull string has a 25mm (1˝) diameter magnet on one end and a spring-loaded metal clip on the other. The alarm triggers and the red light illuminates when the magnet is pulled away from the alarm. A spring-loaded clip is included on the unit for easy attachment to a wheelchair.
Key features:
The alarm unit measures 127 × 51 × 32mm (5˝ × 2˝ × 1¼˝), making it small and discreet.
Durable design – doesn't need an expensive rubber protector. Passed drop test by independent lab simulating 500 drops.
A volume adjustment switch inside the battery compartment can be set at high (105dB) or low (90dB).
The included 9V battery has an extra secure fit. When the alarm is dropped, the battery does not fall out of the alarm and also, makes it more difficult for patients to disable the alarm.
Red, low battery light flashes when battery is low.
Tool free battery door
The length of the pull cord can be adjusted up to 762mm (30˝) allowing flexibility on how far the patient is able to move before activating the alarm.
Order Enquiries
ROI Orders
+353 1 2907000

+353 1 2907111
NI Orders
+44 2890 735 588

+44 2890 735 599
This website uses cookies to improve your experience. We'll assume you're ok with this, but you can opt-out if you wish.Accept Read More
Privacy Overview
This website uses cookies to improve your experience while you navigate through the website. Out of these, the cookies that are categorized as necessary are stored on your browser as they are essential for the working of basic functionalities of the website. We also use third-party cookies that help us analyze and understand how you use this website. These cookies will be stored in your browser only with your consent. You also have the option to opt-out of these cookies. But opting out of some of these cookies may affect your browsing experience.
Necessary cookies are absolutely essential for the website to function properly. This category only includes cookies that ensures basic functionalities and security features of the website. These cookies do not store any personal information.
Any cookies that may not be particularly necessary for the website to function and is used specifically to collect user personal data via analytics, ads, other embedded contents are termed as non-necessary cookies. It is mandatory to procure user consent prior to running these cookies on your website.