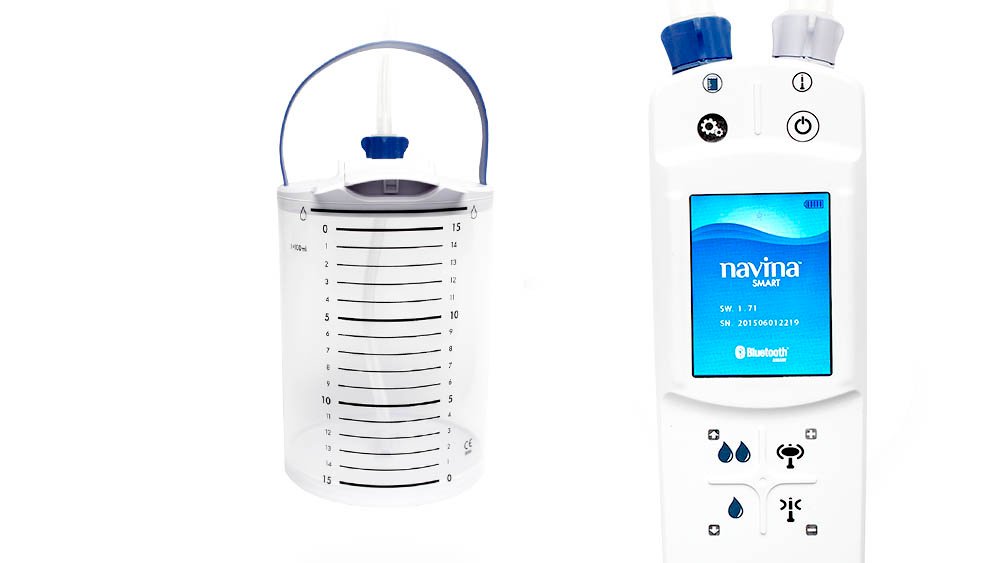 Navina Smart
Simple. Reliable. Intuitive.
The Navina™ Smart control unit and app. 
Improved features to the only digital solution available for TAI
Safe, consistent, reliable and now available for children
Track progress and share data with Health Care professionals
Navina Smart makes TAI simple and intuitive to teach, learn and use.
By tracking the irrigation results, users can optimize their therapy and effectively manage their bowel – with the option to share their data with Health Care professionals via the Smart App, making the transition to a drug free therapy that much easier.
Now available for children
We've extended our range of balloons and hydrophilic catheters to accommodate children, and with the ability to save and use presets, the Smart control unit ensures that each irrigation is the same, giving peace of mind to child, parent and family.
Electronic Control Unit – for safe, consistent, reliable irrigation
Electronic pump and control unit means less physical effort or coordination needed, useful for impaired hand function.
Touch buttons for easy and accurate control of balloon inflation, water flow rate and volume. 
Integrated safety features, including automatic maximum for water instillation and balloon inflation.
User-defined presets, for consistent, reliable irrigation.
Saves treatment information automatically.
All Information at the patient's fingertips, intuitive and easy to understand and access.
ORDER ENQUIRES:
ROI orders / enquiries please contact
+353 1 2907000
+353 1 2907111
NI orders / enquiries please contact
+44 2890 735 588
+44 2890 735 599