Order Enquiries
ROI Orders
+353 1 2907000

+353 1 2907111
NI Orders
+44 2890 735 588

+44 2890 735 599
Novaerus Defend 400
Portable Air Disinfection Device
The Defend 400 (NV400) is an FDA cleared medical device that inactivates aerosolized viruses, bacteria, and fungi, and purifies the air of
particulate matter (PM), volatile organic compounds (VOCs), gases and odours. The device is designed for airborne infection control in medium to small sized rooms where risk of exposure to airborne pathogens is elevated. The Defend 400 device combines NanoStrike™ technology with a triple-stage filtration system from Camfil® to deliver healthy indoor air.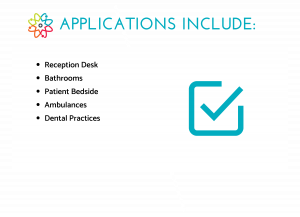 For further information, please visit Novaerus.com
To learn more about the Novaerus Protect 200 Portable Air Disinfection Device or to speak to a Product Specialist, complete the form below:
Order Enquiries
ROI Orders
+353 1 2907000

+353 1 2907111
NI Orders
+44 2890 735 588

+44 2890 735 599
This website uses cookies to improve your experience. We'll assume you're ok with this, but you can opt-out if you wish.Accept Read More
Privacy Overview
This website uses cookies to improve your experience while you navigate through the website. Out of these, the cookies that are categorized as necessary are stored on your browser as they are essential for the working of basic functionalities of the website. We also use third-party cookies that help us analyze and understand how you use this website. These cookies will be stored in your browser only with your consent. You also have the option to opt-out of these cookies. But opting out of some of these cookies may affect your browsing experience.
Necessary cookies are absolutely essential for the website to function properly. This category only includes cookies that ensures basic functionalities and security features of the website. These cookies do not store any personal information.
Any cookies that may not be particularly necessary for the website to function and is used specifically to collect user personal data via analytics, ads, other embedded contents are termed as non-necessary cookies. It is mandatory to procure user consent prior to running these cookies on your website.