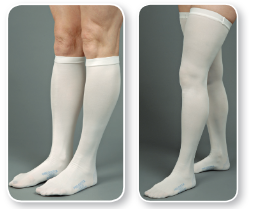 Order Enquiries
ROI Orders
+353 1 2907000

+353 1 2907111
NI Orders
+44 2890 735 588

+44 2890 735 599
Preventex – Anti-Embolism Stockings
Preventex anti-embolism stockings are designed to help prevent the formation of Deep Vein Thrombosis (DVT) in non-ambulatory patients.
Preventex – Anti-Embolism Stockings
Designed to reduce the risk of venous thromboebolism (deep vein thrombosis and pulmonary embolism) in patients admitted to hospital. The benefits include:
Conforms to the Sigel Profile for anti-embolism stockings, producing a calf pressure of 14mmHg, as recommended by NIC (2010, ref 2)
Patient advice included in packaging, supporting NICE guidelines to provide written information.
New two-way stretch composition for more comfort and easier application
Anatomically designed blue heel for comfort and easy positioning
Toe inspection opening for clinical examination and hygiene
Comfortable, silicone band for correct positioning
Permanent size indication on both feet for ease of identification
Comprehensive range of sizes and styles
Order Enquiries
ROI Orders
+353 1 2907000

+353 1 2907111
NI Orders
+44 2890 735 588

+44 2890 735 599
This website uses cookies to improve your experience. We'll assume you're ok with this, but you can opt-out if you wish.Accept Read More
Privacy Overview
This website uses cookies to improve your experience while you navigate through the website. Out of these, the cookies that are categorized as necessary are stored on your browser as they are essential for the working of basic functionalities of the website. We also use third-party cookies that help us analyze and understand how you use this website. These cookies will be stored in your browser only with your consent. You also have the option to opt-out of these cookies. But opting out of some of these cookies may affect your browsing experience.
Necessary cookies are absolutely essential for the website to function properly. This category only includes cookies that ensures basic functionalities and security features of the website. These cookies do not store any personal information.
Any cookies that may not be particularly necessary for the website to function and is used specifically to collect user personal data via analytics, ads, other embedded contents are termed as non-necessary cookies. It is mandatory to procure user consent prior to running these cookies on your website.