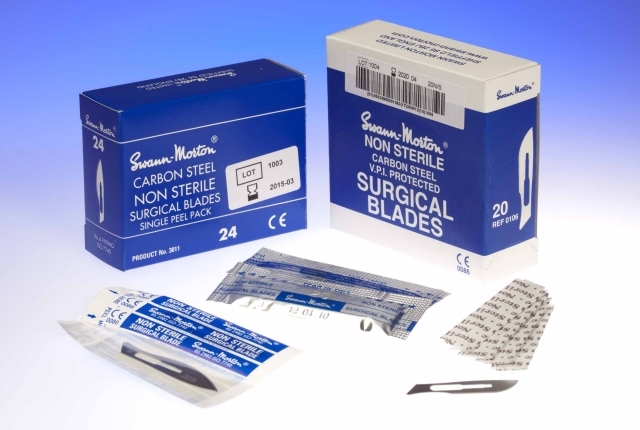 Order Enquiries
ROI Orders
+353 1 2907000

+353 1 2907111
NI Orders
+44 2890 735 588

+44 2890 735 599
Swann Morton Surgical Blades & Handles

Precision, consistency and reliability have helped to establish Swann-Morton surgical blades and handles as the the preferred brand of surgeons and health care professionals in all corners of the World.
A widely differentiated product program focusing on the needs of the clinician and their patients has resulted in a choice of product for use in all surgical disciplines.
Consisting of 34 blade shapes and 12 handles, the Swann-Morton 'general' range is used across all surgical disciplines including cardiology, orthopaedics and reconstructive surgery.
Surgeons choose which size and shape of blade is most appropriate for any particular procedure and which handle provides them with the flexibility, dexterity and depth of field they personally require.
Order Enquiries
ROI Orders
+353 1 2907000

+353 1 2907111
NI Orders
+44 2890 735 588

+44 2890 735 599
Related
Laboris nisi ut aliquip ex ea commodo consequat.
This website uses cookies to improve your experience. We'll assume you're ok with this, but you can opt-out if you wish.Accept Read More
Privacy Overview
This website uses cookies to improve your experience while you navigate through the website. Out of these, the cookies that are categorized as necessary are stored on your browser as they are essential for the working of basic functionalities of the website. We also use third-party cookies that help us analyze and understand how you use this website. These cookies will be stored in your browser only with your consent. You also have the option to opt-out of these cookies. But opting out of some of these cookies may affect your browsing experience.
Necessary cookies are absolutely essential for the website to function properly. This category only includes cookies that ensures basic functionalities and security features of the website. These cookies do not store any personal information.
Any cookies that may not be particularly necessary for the website to function and is used specifically to collect user personal data via analytics, ads, other embedded contents are termed as non-necessary cookies. It is mandatory to procure user consent prior to running these cookies on your website.