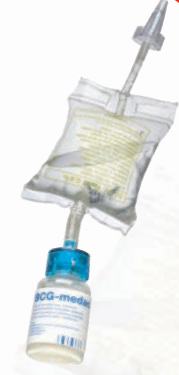 BCG
BCG-medac, powder and solvent for suspension for intravesical use

BCG (Bacillus Calmette Guérin) is indicated for the treatment of non-invasive urothelial bladder carcinoma:
curative treatment of carcinoma in situ
prophylactic treatment of recurrence of :

urothelial carcinoma limited to mucosa :

Ta G1-G2 if multifocal and/or recurrent tumour
Ta G3

urothelial carcinoma in lamina propria but not the muscular of the bladder (T1)
carcinoma in situ
The active ingredient is BCG (Bacillus Calmette Guérin) bacteria seed RIVM derived from seed 1173-P2 2 x 3 x 108 and 109 viable units. 
This product is available in the following presentations:
Powder and Solvent for suspension for intravesical use in 50ml bag
It is available in the Republic of  Ireland from Fannin Ltd in partnership with Medac. (This link will take you to a non-Fannin Ltd. website.  Fannin Ltd. does not recommend, endorse or accept liability for sites controlled by third-parties).
For a copy of the SPC please click here.
Method of Sale: POM
PA Number: PA 0623/004/001
MAH Holder: medac Gesellschaft für klinische Spezialpräparate mbH, Theaterstrasse 6, 22880 Wedel, Germany
For additional information please contact our medical information department at medical@dccvital.com or via phone on 01 2907000
Additional information available on request.
Date of preparation: July 2022
IE2022/062/00
ORDER ENQUIRES:
ROI orders / enquiries please contact
+353 1 2907000
+353 1 2907111
This website uses cookies to improve your experience. We'll assume you're ok with this, but you can opt-out if you wish.Accept Read More