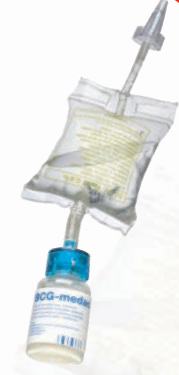 BCG
BCG (Bacillus Calmette Guérin) is indicated for the treatment of non-invasive urothelial bladder carcinoma.
The active ingredient is BCG Bacteria Attenuated Strain RIVM. 

This product is available in the following presentations:
Powder & Solution for Intravesical Use in 100ml bag
It is available in the Republic of  Ireland from Fannin Ltd in partnership with Medac.
Method of Sale: POM
PA Number: PA 623/4/1
For further information on BCG please speak to your local Fannin Representative directly or contact our medical information department directly at medical@dccvital.com or via phone on 012907179.
ORDER ENQUIRES:
ROI orders / enquiries please contact
+353 1 2907000
+353 1 2907111
This website uses cookies to improve your experience. We'll assume you're ok with this, but you can opt-out if you wish.