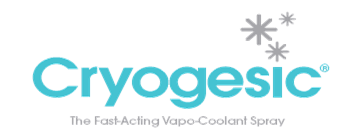 Cryogesic Spray
Cryogesic (Ethyl Chloride) Spray is a fast-acting vapo-coolant spray that provides rapid, transient, topical local analgesia for minor invasive procedures, and a source of instant 'coldness' for tracking the efficacy of epidural blocks. The analgesic effect is almost instant because rapid evaporation of ethyl chloride causes cooling and numbing of the skin. This effect lasts for about 30 – 45 seconds until the skin re-warms, but will vary depending upon circumstances.
This product is available in the following presentations:
100ml Direct Spray aerosol can
100ml Fine Spray aerosol can
Cryogesic Spray is CE Marked.
For any further information please speak to your local Fannin Representative or for a copy of the SPC please contact our medical information department at medical@dccvital.com or via phone on 01-2907000.
Date of preparation: July 2018
ORDER ENQUIRES:
ROI orders / enquiries please contact
+353 1 2907000
+353 1 2907111
This website uses cookies to improve your experience. We'll assume you're ok with this, but you can opt-out if you wish.Accept Read More