SunStim Pro Peripheral Nerve Stimulator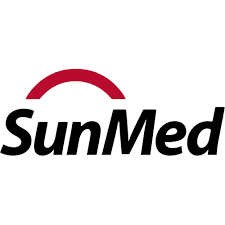 The SunStim™ Pro Peripheral Nerve Stimulator delivers reliable, adjustable current in one-second twitch pulses. Features built-in train of four with four pulses per two seconds. This deluxe nerve stimulator is ergonomically designed with a digital screen for quick visual assessment of functionality. Also includes a removable silicone case. Comes complete with instruction manual, ball electrodes, 9V battery, 6' lead wires with alligator clips and gray silicone protective wrap.
Features:
Stimulator output current is fully adjustable from 0-70 mA
SunStim™ Plus (8-1053-62) switch functions:

Double burst: 2 60-ms bursts of 50 Hz separated by 0.75s
Twitch: 1 pulse per second
Tetanus: 50 Hz (50 pulses/s) or 100 Hz (100 pulses/s)
Built-in train of four: 4 pulses in a period of 2 seconds

Stimulus pulse: square wave monophasic pulses (200-

μ

s duration)

LED (green) battery light indicates that the unit is on, flashes on low battery
LED (red) flashes with audible indicator sounds each time a stimulus pulse is generated
Lightweight: 0.25lbs including battery
Standard battery: 9 volt alkaline
SunStim Operating Instructions
To find out more about SunStim™ Pro Peripheral Nerve Stimulator, please fill out the enquiry form below and we will be in touch:
This website uses cookies to improve your experience. We'll assume you're ok with this, but you can opt-out if you wish.Accept Read More
Privacy Overview
This website uses cookies to improve your experience while you navigate through the website. Out of these, the cookies that are categorized as necessary are stored on your browser as they are essential for the working of basic functionalities of the website. We also use third-party cookies that help us analyze and understand how you use this website. These cookies will be stored in your browser only with your consent. You also have the option to opt-out of these cookies. But opting out of some of these cookies may affect your browsing experience.
Necessary cookies are absolutely essential for the website to function properly. This category only includes cookies that ensures basic functionalities and security features of the website. These cookies do not store any personal information.
Any cookies that may not be particularly necessary for the website to function and is used specifically to collect user personal data via analytics, ads, other embedded contents are termed as non-necessary cookies. It is mandatory to procure user consent prior to running these cookies on your website.