Vommax®
Simple to use & effective Vomit Bag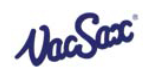 Vommax® is the ideal replacement for the traditional disposable bowl and kidney dish.
Ergonomically designed with a rigid plastic mouthpiece fitting perfectly over the patients mouth ensuring that all vomit is completely captured, thus, eliminating accidents. 
Vommax® has a simple twist and seal device for immediate hygienic odourless disposal
Manufactured using a translucent material, allowing any blood to be easily identified and indicators allowing approximate volume assessment.
Supplied with or without a solidifying gel agent.
Vommax® is used in many areas including:
Hospitals
Ambulances
A & E Departments
Doctor's Surgeries
Any Transport situation where there could be a possibility of travel sickness
ORDER ENQUIRES:
ROI orders / enquiries please contact
+353 1 2907000
+353 1 2907111
NI orders / enquiries please contact
+44 2890 735 588
+44 2890 735 599
UK orders / enquiries please contact
This website uses cookies to improve your experience. We'll assume you're ok with this, but you can opt-out if you wish.Accept Read More