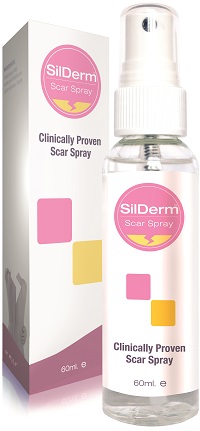 SilDerm Scar Spray
SilDerm Scar Spray
What is SilDerm Scar Spray?
The SilDerm Scar Spray is a quick and easy way to apply a protective barrier to scars. It is suitable for a wide range of scars including burns and large scar areas.
The SilDerm Scar Spray is:
Quick and easy to apply
Suitable for  scars which are sensitive and painful to touch
Large scars 
Itchy scars
Quick to dry and forms a protective barrier over the scar
Available in:
Where is SilDerm available
In selected pharmacies nationwide, see our list of stockists: SilDerm Stockists or email silderm@fannin.eu
For any further information please speak to your local Fannin Representative or contact our medical information department at medical@dccvital.com or via phone on 01 2907000.
Date of Preparation: January 2019
IE2019/002/00
ORDER ENQUIRES:
ROI orders / enquiries please contact
+353 1 2907000
+353 1 2907111
This website uses cookies to improve your experience. We'll assume you're ok with this, but you can opt-out if you wish.Accept Read More