Privigen
Privigen 100 mg/ml solution for infusion
Privigen 100mg/ml Solution for Infusion, Human Normal Immunoglobulin is indicated for:
Replacement therapy in adults, and children and adolescents (0-18 years) in:  
– Primary immunodeficiency syndromes (PID) with impaired antibody production 
– Secondary immunodeficiencies (SID) in patients who suffer from severe or recurrent infections,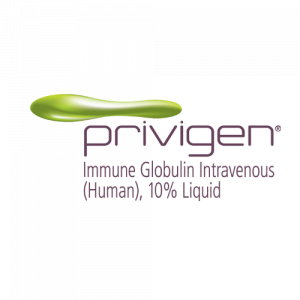 ineffective antimicrobial treatment and either proven specific antibody failure (PSAF)* or
serum IgG level of <4 g/l.
* PSAF = failure to mount at least a 2-fold rise in IgG antibody titre to pneumococcal polysaccharide and polypeptide antigen vaccines.
Immunomodulation in adults, and children and adolescents (0-18 years) in:
– Primary immune thrombocytopenia (ITP), in patients at high risk of bleeding or prior to surgery
to correct the platelet count.
– Guillain-Barré syndrome.
– Kawasaki disease (in conjunction with acetylsalicylic acid; see section 4.2.).
– Chronic inflammatory demyelinating polyneuropathy (CIDP). Only limited experience is
available of use of intravenous immunoglobulins in children with CIDP.
– Multifocal motor neuropathy (MMN)
Privigen is available in the following presentations:
2.5g in 25ml vial
5g in 50ml vial
10g in 100ml vial
20g in 200ml vial
Please click here for the SPC or for further information please contact medical@dccvital.com 
Please visit our Hizentra and homecare services pages for information on our Solution for Subcutaneous Injection, Human Normal Immunoglobulin.
Privigen is distributed in Ireland by Fannin Ltd in partnership with CSL Behring. (This link will take you to a non-Fannin website. Fannin Ltd does not recommend, endorse or accept liability for sites controlled by third-parties).
Method of Sale: POM
License Number: EU/1/08/446/001-004
MAH Holder: CSL Behring GmbH, Emil-von-Behring-Strasse 76, D-35041 Marburg, Germany
For any further information please speak to your local Fannin Representative or contact our medical information department for a copy of the SPC at medical@dccvital.com or via phone on 01 2907000. 
Additional information available on request.
IE2022/068/00    
Date of Preparation: November 2022
This website uses cookies to improve your experience. We'll assume you're ok with this, but you can opt-out if you wish.Accept Read More
Privacy Overview
This website uses cookies to improve your experience while you navigate through the website. Out of these, the cookies that are categorized as necessary are stored on your browser as they are essential for the working of basic functionalities of the website. We also use third-party cookies that help us analyze and understand how you use this website. These cookies will be stored in your browser only with your consent. You also have the option to opt-out of these cookies. But opting out of some of these cookies may affect your browsing experience.
Necessary cookies are absolutely essential for the website to function properly. This category only includes cookies that ensures basic functionalities and security features of the website. These cookies do not store any personal information.
Any cookies that may not be particularly necessary for the website to function and is used specifically to collect user personal data via analytics, ads, other embedded contents are termed as non-necessary cookies. It is mandatory to procure user consent prior to running these cookies on your website.